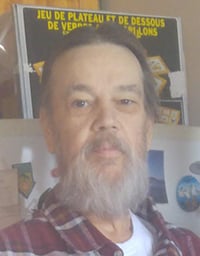 Douglas Andrew Abbott
It is with deepest sorrow that we announce that Doug passed away on May 21, 2020 due to complications from cancer. Doug is survived by his loving family, his wife of 34 years, Brenda, and sons Alex and Scott.
 He is pre-deceased by his parents, Mary (nee Wright) and George, and a sister Cathy (Lynn).
Living to witness his passing are his brothers Charles (Judy), John (Kendra), David (Linda) and sisters Elizabeth (David), Jane (Rick) from P.E.I. His mother and father in law Flo and Van, sister in law Val (Hugh) ad brother in law Gary (Lois) He leaves behind over 20 nieces and nephews and over 20 grand nieces and nephews.
 He will be going back to his beloved P.E.I. for his final resting place. No services will be held at this time. No flowers please, we are planting a tree for him in the back yard instead.
 The family wants to express their appreciation to all the doctors and nurses and caregivers who assisted with his care over the past year, all of whom were compassionate, kind, and caring.