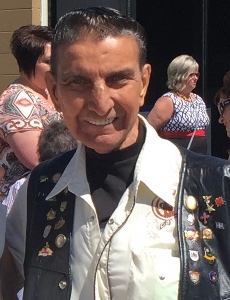 Douglas Issac Paul
August 23, 1946
-
May 8, 2023
Douglas Issac Paul
Age at passing: 76 years old
Residency: Edmonton, Alberta
Date of passing: May 8th, 2023
Place of passing: Edmonton, AlbertA
Children: Tammy Hickie, Darrel, (Claire) Welychka
Grand Children: Darryl, Jennie, Samantha, Colton, Colby.
Great Grandchildren: Alex. Jazylynn, Rayvn, Jaxon, Anakin.
Parents: Eva and Modest Paul.
Pre-deceased Siblings: Alvin, Roger, Teddy, Lorne, Sharon, Sherry.
Survived by siblings: Georgina, Muriel, Patsy, Keith.
Date/Time/place: Marlboro Alberta May 13, 2023 @ 12pm.
Reception: Marlboro hall with luncheon to follow.
Inurnment: In Fort Vermillion at a later date.
Doug's Biography:
Doug was born in Fort Vermilion Alberta born to Eva and Modest Paul. He was a hard working man who was a talented carpenter. He loved fishing and hunting. He loved his two children, Tammy Hickie and Darrel Welychka. He enjoyed spending time with his children and grandchildren. Spending summers up in the Fort with his nephew Poly, (Carla) Paul brought him joy and peace. He was loved and will be missed by family and friends. Thumbs up to all.