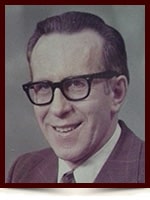 Dr. Jacob Alfred Johnson
Dr. Jacob Alfred Johnson, 86, of Edmonton, AB went to be with the Lord peacefully on September 23, 2014. Jake was born in Castor, AB on March 8, 1928 to the late Charlie and Alice Johnson. He received a Doctorate of Theology, was ordained as a pastor and traveled the world as a missionary, spreading the word of God with his wife, Donelda, at his side. Their marriage of 58 years has been a testament to many of true love, commitment and servitude to God.
Jake is survived by his wife, Donelda, daughter, Shirley and grandchildren, Sukhi, Raji (Adrienne) and Kinni. He also leaves behind many nieces, nephews and grand nieces and grand nephews.
Celebration of his life and Beautiful Spirit
11 am Tuesday September 30, 2014
Central Memorial Chapel 10530 - 116 Street Edmonton, AB
Memorial Donations
Global Baptist Missions
We know he will be hearing:  "Well done, my good and faithful servant, well done."