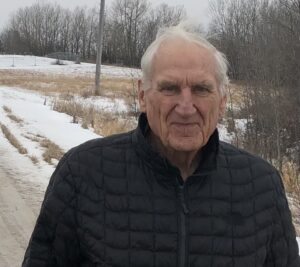 Dr. Kenneth (Ken) David McFadden
August 2, 1929
-
January 23, 2023
Our family is saddened to announce Ken's passing on the evening of January 23, 2023 in Edmonton Alberta.
Ken is survived by the love of his life, his 'girlfriend', his wife of nearly 70 years, Phyllis,  and  by their children Lee (Debbie), Deborah (Ken), Brian (Jillian), Nancy, Allison (Rob), 15 Grandchildren, 12 Great Grandchildren and numerous nieces and nephews. He was predeceased by his daughter Katherine (Sam).
Ken was born in Brandon, Manitoba and moved to Winnipeg with his parents, sister, and 3 brothers. He received a sports scholarship to attend St. Paul's High School in Winnipeg where he excelled in sports, particularly football. Scouted for his high school football skills, he was invited to attend Concordia College in Moorhead, Minnesota. At Concordia he met Phyllis: he was a football player and she was a cheerleader. Her Angora mittens left pink fluff on his navy storm coat. It was love at first sight!
Ken played professional football with the 1952 Calgary Stampeders for one season before returning to academia. Upon graduation from Concordia College, Ken and Phyllis moved to Puerto Rico for a year, where their first son, Lee, was born. Ken continued his graduate education at University of Pennsylvania and earned his PhD at the University of North Dakota, where their family grew to 6 children in a tiny 2-bedroom student rowhouse, vastly improved by the rink out back made by Ken and enjoyed by all the kids. In 1965, he and Phyllis moved their young family to Edmonton where he began his career as a Professor of Anatomy at the University of Alberta, Faculty of Medicine, where he was held in high regard by his peers. He loved teaching medical students and was, in turn, well respected by them, with many vying to get into his remedial classes. He was awarded best teacher of the year on numerous occasions and many of his students will remember his prowess on the ice in faculty-student hockey games. He became the Head of the Department of Anatomy until his retirement in 1994. After retirement, his love of teaching led him to continue part-time teaching in the Department into his 80s. 
Even while busy with his career, Ken was deeply involved with his family: coaching each child's sporting activities, making them go snowshoeing and cross-country skiing, long before it was the done thing, and taking everyone out fishing and hunting. The family hiking expeditions led by Ken are legendary amongst the family – with one family member wanting to go each year to see if it was as bad as the last. He introduced all to his version of a party – black licorice and Pepsi – a tradition we have all passed on. 
Ken's life was deeply shaped by his religious faith and he served his church in many ways.
Ken always loved travel and looked for opportunities such as sabbaticals in England and Australia to do that. He developed a keen interest in China during his career and took Mandarin lessons, with his characteristic determination and rigor, before his several teaching trips there. 
Above all, Ken was a good man, a wonderful husband, father, grandfather, teacher, and friend and will be much missed.  
A memorial service will be held on May 13, 2023 at 11 AM at Calvary Lutheran Church 10815 76 Avenue in Edmonton.