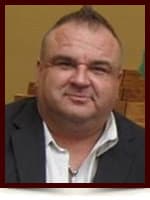 Dusko Collin Radojcic
April 1, 1972 - July 8, 2015
On July 8, 2015 Dusko Radojcic of Edmonton passed away suddenly at the age of 43 years.
Survived by his only daughter Alexcia; his partner Christina Edlund; parents Petar and Mira; sisters:  Zorica (John), Marian (Terry); two nephews: Nickolas and Dusko: three nieces: Mira, Malina and Nalija as well as his grandmother Milka; his aunts and uncles, Mile (Jasmina), Jelisaveta, Nada, Jovan (Nada) as well as their families all of Edmonton.
Dusko also leaves other aunts and uncles, Nikola (Ljilja) of Ontario and their families and Mara (Vesna), Jela (Dusko), Mile (Milica) and Rade (Zorica) and their families all of Serbia as well as numerous other relatives and friends.
The family wishes to extend their sincere gratitude to all their relatives and friends for their visits and support.
Prayers
7:00PM Thursday, July 16, 2015
Trinity Funeral Home
10530-116 Street Edmonton, AB
Interment
3:30PM Friday, July 17, 2015
St. Michael's Cemetery
13819-83 Street Edmonton, AB
Contact Information:
[wpseo_address oneline="1" show_state="0" show_country="0" show_phone="0" show_phone_2="0" show_fax="0" show_email="0"]