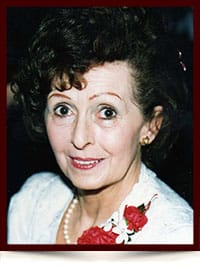 Edith Irene Stearns (nee Simonsen)
We are deeply saddened to announce that Edith Irene Stearns (nee Simonsen) of Edmonton, AB, passed away on June 17, 2017, at the age of 88 years after a courageous 8-month battle with lung cancer.
Edith is survived by her four daughters: Claudia Bergot, Debra Unger, Valerie Casorso (Richard) and Tracey Elliott (Russell) all residing in the interior of BC. She is also survived by her partner Barry Stearns of Edmonton, 8 grandchildren and 5 great-grandchildren.
Edith was born May 8th, 1929 in Lady Minto Hospital, Edam, SK, to Karen Margrethe (nee Spleth-Olsen) and Kristian Edward Simonsen. Two weeks before Edith's first birthday, her mother passed away and Edith often missed her terribly. She was raised in Hanley by Kristian and wife, Beulah Elizabeth Jane (Haight). She was joined by siblings Joyce, Carole, Viola, Larry and Chris as the years rolled along.
Much of Edith's childhood was spent performing in plays, singing and/or dancing at weddings, funerals, concerts, school plays or simply teaching herself to play organ/piano at home. Her love and enjoyment of music was always evident in the background of her life. She hoped to be a music teacher one day and at the age of 50, she successfully returned to university to acquire her B.Ed. and teacher's Certificate.
She single-handedly raised her 4 daughters through the 50's and 60's. She was an incredibly hard worker with high standards of excellence in all that she did.
Edith will be deeply missed but we smile to know that she is "safe in her Mama's arms at last".
In accordance with Edith's wishes, there will be no funeral service. She will be interred at the Edmonton Mausoleum on 107th Avenue and 118th Street, Edmonton, AB.
In lieu of flowers, donations may be made in her name to the Edmonton Humane Society.