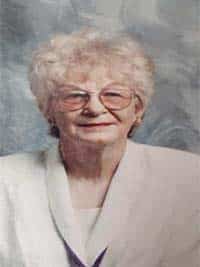 Edith Irmgard Radcliffe (nee Sommerfeld)
1935-2020
Edith was born in 1935, in Brightholme, Saskatchewan, to Adam and Olga Sommerfeld. She grew up on the farm and later, in Shellbrook, Saskatchewan. After completing highschool, she attended Teachers' College and the University of Saskatchewan. In 1965, Edith married Christopher Radcliffe, and had three daughters, Sylvia, Shirley, and Tanya. Edith passed away from heart failure in Edmonton, Alberta, on April 30th, 2020.
Mom was an extremely loving, generous, and selfless person. When it came to family, she would do whatever humanly possible to help them. She gave everything of herself while expecting nothing in return.
An incredibly intelligent lady, she could often be found with her nose in a book, reading anything and everything. It was almost astounding how knowledgeable she was on a vast array of subject matter! With a gift for artistry and creativity, Mom spent countless hours sewing all manner of things, and transforming antique furniture and old wooden items into beautiful centerpieces, which she, invariably, gifted to family and friends.
Mom was the epitome of strength and resilience. She endured much adversity in her life, but always managed to pull through with her head held high and her huge heart still giving of itself. Alas, even a huge heart must eventually cease giving, and much to our tremendous sorrow,. Mom's heart needed to rest.
Our Mumma - Our Everything
Mourning the loss of this exceptional lady are her children, Sylvia Radcliffe, Shirley and Kollin Kulcheski, Tanya Radcliffe, her grandson, Colton Kulcheski, brother and sister-in-law, William and Joann Sommerfeld, and numerous nieces and nephews. She was predeceased by her parents, brother, Arnold (in infancy), sister and brother-in-law, Hilde and William Mayer, brother and sister-in-law Herbert and Hannelore Sommerfeld, brother, Reynold Sommerfeld, ex-husband, Christopher Radcliffe, son-in-law, Kim Kulcheski, niece, Cheryl Fitch, and nephew Perry Sommerfeld.