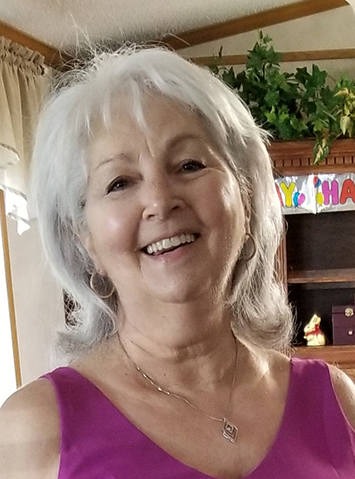 Edith Lucienne Dumont
April 28, 1955
-
December 6, 2022
It is with great sadness that we announce the sudden passing of Edith Lucienne Dumont.
Edith passed away on December 6, 2022, at the age of 67 years in Edmonton (AB) with loved ones by her side.
Edith was born on April 28, 1955 in McLennan (AB) to parents Louise & Robert Roby.  She married Eugene (Gene) Dumont in July, 1973.
Together with her late husband, she raised her 3 children in the village of Girouxville (AB) until moving to an acreage on Hunting Creek just west of Girouxville (AB).Following the passing of her late husband and oldest son, Edith moved back to the village of Girouxville (AB) to be closer to her ill mother.
Following the passing of her mother, Edith moved to Clairmont (AB) where she would be closer to her son and 2 grandchildren.
In 2015, Edith moved to Leduc (AB) with her partner, Douglas Robinson, in order to be closer to her medical professionals and her beloved daughter.
Edith was predeceased by her parents (Louise and Robert), her husband (Eugene (Gene), Dumont), son (Shawn Dumont), brother (Denis Roby) and many other family and friends. She is survived by her partner of 10 years; (Douglas Robinson), son (Sheldon Dumont), 2 grandchildren (Aaron and Jonah Dumont), her daughter (Sherry Ann Dumont), her sister (Carol Shannon), 2 brothers (Duke and Leo Roby), many nieces and nephews; as well as many dearest family and friends.
Her strength, courage, bravery, resilience and love are lessons for us all. She carried many hardships throughout her short life; however these only made her more graceful, loving, caring and kind. May we all aspire to make this world a better place and allow our own pain and hardships make us kinder, more loving and understanding as Edith has done and would want from us all.
She was the caretaker, the mother-essence, the healer, the safe place, the calming voice, the perfect words.
She was the sixth sense, the magical fairy, the warm embrace and that familiar sense of home.
She blanketed everyone with her light so that we could shine brighter.  She touched every heart she ever encountered with love and grace.
You are so loved and may you rest in peace, mom (Edith).
-Cremation was held on December 9, 2022 in Edmonton (AB) as these were her wishes.  A graveside memorial and celebration of life will follow in the Spring of 2023 in Girouxville (AB) where she wanted to be layed to rest, with loving family who have predeceased her.
Donations may be directed to:
Autoimmune Disease Foundation Of Canada Inc
61 Flax Rd
Moose Jaw, SK Canada
S6J 1L1
Charity#: 820237113RR0001
https://mycharityfund.ca/charity/48394/autoimmune-disease-foundation-of-canada-inc