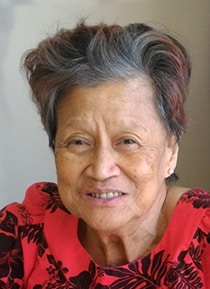 Editha Santos Santiago
Editha Santos Santiago, also known lovingly by many as "Marnie", passed away peacefully in the wee hours of Sunday morning January 3, 2021, the day Our Lord Jesus took her to eternal life.  She was in her 83rd year. Her infectious smile and trademark stubbornness will not be forgotten.
Editha was the 3rd of 9 siblings.  She is survived by her sister Lucy (Salvador) Abenojar and her brother Roberto (Gloria) Santiago as well as numerous nieces, nephews, extended family and dear friends.  She was preceded in death by her parents, Antonina and Francisco Santiago, her four brothers, Rodolfo Santiago, Romeo (Milagros) Santiago, Eduardo Santiago and Alfredo (Teresita) Santiago, and two sisters, Adoracion (Constancio) Rebucas and Soledad Santiago.
Beautiful, kind, sweet, wonderful, spicy, smart, sour, funny, bright and stubborn, she was truly a blessing from the Lord to all of us who knew her.
In life she was undecided in a career and took up hairdressing and dressmaking until deciding in Elementary education.  She earned her Bachelor degree in Elementary education in college eventually teaching Grade 2, 3, and 4 in the Philippines.
Immigrating to Canada in the 70's to Montreal, Quebec she worked in the hospital in the dietary department and as a patient care attendant.  She also worked at a department store in the stationary print shop.  All the while, taking French language classes.
Eventually she followed her sister, Lucy to Edmonton, Alberta in 1978.  In this move, she spent her days help raising her sister's children.
She never married speculated from not recovering from a break up with the captain of the basketball team in her younger years though many continue to wonder.
She enjoyed eating mangos with bagong and lechon.  She also loved MacDonald fries with ketchup, double chocolate donuts from Tim Hortons, chestnuts, fruits and again adored anything that was chocolate.
In her twilight years she treasured her solitary time but still loved company.  She spent time with volumes of Word Find with her ruler and pen in hand, taking care of her flowers and plants, a true green thumb and loved listening to Micheal Buble, Josh Groban and country music radio.
She never was one to be the center of attention nor wanted to be fussed over.  She always lighted up the room with her smile but you had to get her to laugh in order to see that smile.  She had the most loving and generous heart, a gentle soul.
She received no plaques nor had any monuments made but her greatest accomplishment was intangible, raising good kids in this crazy world.  One of the most unselfish and kind women this world has ever known.  She will truly be missed.
Heartfelt thanks go to the exceptional nurses, careguides, doctors and all the staff at CapitalCare Kipnes Centre for Veterans, who provided more than nursing care but also provide a compassionate and peaceful environment during her transition from this life to the next.
A private viewing will be held at Trinity Funeral Home in Edmonton, Alberta on January 7, 2021 at 10:00am-11:00am.
A private service of a Mass Christian Burial will be celebrated in St. Charles Catholic Church in Edmonton, Alberta on January 11, 2021 proceeding to the Holy Cross Cemetery.
Memorial donations in Editha's name can be made to CapitalCare Kipnes Centre for Veterans, 4470 McCrae Avenue NW, Edmonton, AB. T5E 6M8 or to your favorite charity.  Condolences can be left online at the Trinity Funeral Home website (www.trinityfuneralhome.ca).
As for God, his way is perfect: the word of the Lord is tried: he is a buckler to all those that trust in Him. Psalms 18:30 (KJV).