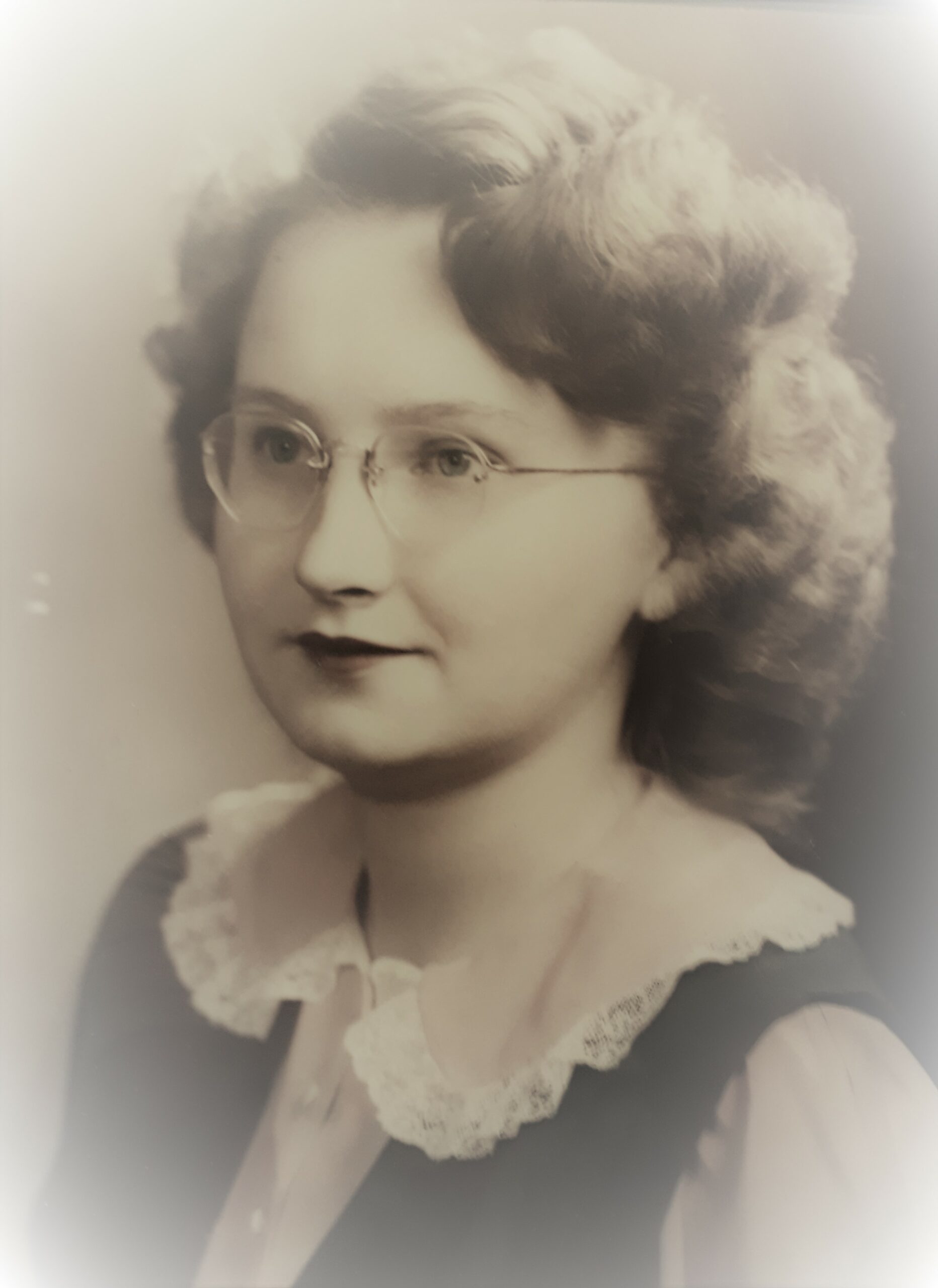 Edna Ann Tyler
January 28, 1932
-
August 25, 2021
In all the world we shall not find
A heart so wonderfully kind;
So soft a voice, so sweet a smile,
An inspiration so worthwhile.
A sympathy so sure, so deep
A love so beautiful to keep
Edna was feeling kind of tired; it had been a long journey travelling life's road since 1932, a good journey these past 89 and a bit year - life had been fruitful and happy and full of so many experiences. But now she was slower navigating that path, some things were hard to remember and, too, she was missing John. The bed, it seemed, was just a little bit too big and there was no one to steal the covers from, there was no hand to hold as she fell asleep or in the early morning before getting up for the day and there was no one to call a pain in the ass on more than on occasion throughout the day!!
Edna sat contemplating the past:
Her earthy journey had begun on a wintry January day in Mundare. Cold it may have been outside but the warmth and love which radiated from the extended family which welcomed her into their midst formed the Edna that everybody knew – a warm, caring and compassionate girl to whom family was most important, a kind hearted girl who always put others first and would do anything for anybody ... she asked for so little but gave so very much. She doted on her younger brothers to whom she was always just 'sis'.
After moving to the city when she was six, Edna had her first solo adventure, taking the train back to Mundare to visit her beloved grandparents on the farm; a trip that was taken on many a weekend, a trip that was full of music, singing and games. These early odysseys developed an independent spirit in Edna enabling her to handle any situation that came her way and become the person that people could turn to, to sort things out. And a sense of adventure that many did not realise.
A quiet and unassuming child, with a passion for reading, Edna grew into a quiet and unassuming woman who still loved to read. Edna always had aspirations to be a nurse but sometimes life just stands in the way … a shame as she would have been the best care giver.
Relationships were very important to Edna. She was a devoted friend who had a close circle of companions that she cherished and had many exploits with through the years; these friendships stood the test of time and made for some lovely memories. Her love of reading also attracted her to John who, in time, became her lifetime love and with whom she shared, in total, 75 years. A unique partnership that endured but not without it's interesting?? Moments!!
Edna never forgot a birthday or an anniversary; sending a card, making a lovely hand decorated cake or just assisting with preparations. She loved occasions where family got together and was always a presence and not just at weddings and funerals. She loved just popping in to visit and have a coffee. Even when it came time for killing chickens at the farm Edna was there assisting (and helping her new sister-in-law Lynne be part of the farm family). When her family expanded, her in-laws became enveloped into Edna's welcoming world. And, it seemed too, that all children and animals were drawn to her warm heart and this made her so happy.
A homebody, just like her dad, Edna could turn her hand to almost anything and, when she did, it always turned out well!! She was the ultimate homemaker, a wonderful cook (apart from the one meal that she made for her dad which burnt because she had her nose in a book … one of her favourite stories, lovingly remembered, as he never complained and cleaned the plate). There were always wonderful aromas coming from the house when Edna was at the helm and her baking was legendary, especially her Christmas gingerbread!! Edna loved to attend the cooking demonstrations at Jasper Park Lodge and on cruises and had collected, clipped out and been given more recipes and recipe books than can be imagined!! Edna was an accomplished seamstress and knitter, a quilter, and an artist. She loved crafts and could make absolutely anything. Gardening was another passion of Edna's and she was never happier than when pottering outside creating wonderful, colourful landscapes.
Edna was often overshadowed by John's exuberant personality so was also a bit of a dark horse to all but those who knew her well. She loved otherworldly events, going often in earlier times to the Russian tea house to have her leaves read. She loved Halloween and dressing up. She loved horror movies (plus the nuts from the nut house that went so well with a movie) Hitchcock was one of her favourites. She loved all rides at theme parks, fast rides, to the chagrin of John who would sit on the bench while she indulged her passion – even in later years when a ride stated that those with heart problems should not participate, she would say 'if it kills me, it kills me, at least I will be having fun'. She loved to watch CSI and, if born in another era she would have made a great forensic scientist. Edna was the best jacks and card player. And she was a lovely conversationalist when she had the chance. On the flip side, exercise and sport were never Edna's forte although she did enjoy watching curling on the TV.
Smiling at her look back on the past, Edna looked forward:
Life, overall, had been good but the beyond and new experiences now beckoned and Edna was always game for something new (another thing not many people realised); family and good friends that had gone before seemed to be calling her name. The time to travel onward had arrived. As the night moved toward morning and a new day began Edna stepped forward onto a new road that was just the beginning … John would be waiting for her, to hold her hand and continue their adventures in another realm (after all, as everyone knew, they always went everywhere together!!), although he would still be a pain in the ass. The smell of coffee drifted on the breeze - Mary must have the coffee pot on in anticipation of meeting up once again. Edna could taste it already and she did love a coffee!! plus a long conversation with her very good friend who she had missed all these years. The joy of seeing family and friends long passed made her heart swell with joy and soon Jack would get his long-anticipated cuddle from his grandma.
One final message from Edna:
I'd like the memory of me to be a happy one. I'd like to leave an afterglow of smiles when life is done. I'd like to leave an echo whispering softly down the ways, of happy times and laughing times and bright and sunny days. I'd like the tears of those who grieve, to dry before the sun; of happy memories that I leave when life, now, is done.
Celebration of Life
1:00PM Saturday October 30, 2021
St Augustine's Church
6110 Fulton Road NW, Edmonton, AB  a
For those unable to attend, the service will also be streamed live through www.staugustinesedmonton.com just click the link. Following the service, if the weather is accommodating, coffee and cookies will be available in the churchyard. Edna always loved to bake cookies!!!
In lieu of flowers, although I love them dearly, please consider making a donation to Pilgrim's hospice in my name (9808 148 St NW, Edmonton T5N 3E8) If I had lingered on, they would have been there to be with me in my last days as they were with John, but I decided I couldn't wait that long.