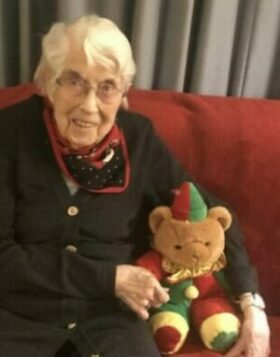 Edna Frances Purvis
December 1, 1926
-
February 1, 2022
Edna Frances Purvis (née Gould) of Edmonton, Alberta, died on February 1, 2022, at the age of 95.
She met her husband Stuart in Edmonton while caring for his mother. They were happily married for 33 years, until his death in 1986. She is also predeceased by her son David (1985) and her six siblings. She is survived by daughter Christine (son Matthew), son Clifton (wife Lisa Vant, sons Stuart and Ben), daughter Mifi (husband Michael, daughters Ella and Norah) and several grand-dogs.
The youngest of seven children, Edna was born December 1, 1926 in Summerland, B.C., to Edgar and Frances Gould. Edna moved to New Westminster, B.C., and later to Edmonton, graduating as a registered nurse from the Misericordia Hospital, a point of lifelong pride for her.
Edna sewed everything, including elegant clothes for herself, and was happy to spend hours at the sewing machine. She loved coffee and tea, books and crosswords, and preferred TV sports to soap operas. She had dogs, large and small, ever since she was little and never met one that didn't immediately love her. She opened her home to all her kids' friends, some who stayed for dinner and others who stayed for months. Her adult kids liked nothing more than joining Mom for a glass of wine on a Sunday afternoon.
She loved working outdoors in the garden, also applying her talents indoors to growing and sharing beautiful African violets. Refinishing antique furniture was something that she pursued for years. She also loved spending time in the Okanagan.
After 40 years of smoking, Edna chose health over habit. She told us that quitting smoking was one of the hardest things she had ever done. The results speak for themselves: many more years of enjoying life and watching five grandchildren grow from babies to adults.
She was a good friend to many and made new friends into her 90s. She spent 15 years at the Canterbury Foundation residences. Her loving family gives enormous thanks to the many caring staff members that Mom was fortunate to know.
As a family, we will remember her privately and won't hold a memorial service.
The Royal Alexandra Hospital Foundation (or the charity of your choice) would gladly accept memorial donations.