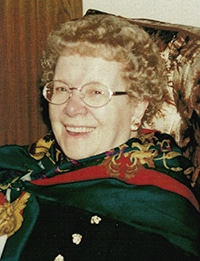 Edna Irene Squarok
December 1922 to August 2019
It is with great sadness that we say good-bye to our mother, grandmother & great-grandmother who passed away peacefully August 1st at the age of 96.  She will be lovingly remembered & sadly missed by her children-Janet Schnellback/Egan; Geof (Danielle); Gillian Pye; Jackie Stakkestad; Jim (Leona); Andy; Rob, 15 grandchildren &  10 great-grandchildren; 1 brother Norman (Alma) & 2 sister-in laws Ann & Kay along with numerous nieces & nephews. Edna was pre-deceased by husband John, daughter Patsy, grandson Darcy, & 4 son in-laws Jack, Ernie, Lloyd & Danny, parents Fred & Ada, 3 brothers Harold, Manfred & Raymond.
Edna was born in Loughborough, Leicesteshire. England and met John while he was on leave during World War ll & they were married in 1943.
Mom immigrated to Canada in 1946 to join dad & settled on a farm (pioneer style living) at Minburn, Alberta where Janet, Patsy, Geoffrey, Gillian & Jackie were born; then to Bowness in 1958 & along came Jimmy then to Edmonton in 1961 which added Andy & Rob to the crew.
In Edmonton, mom joined the Edmonton War Brides Association & spent many hours reminiscing & getting re-acquainted with other War Brides.  These ladies knew how to have a good time no matter the circumstances.  Mom was very proud to be a Canadian.  She took the chance on coming to Canada not knowing what she was in for & made the best of the very challenge she faced.
Mom & Dad joined the Northgate Loins Senior Centre where they participate in several programs.  Moms favorites being card making; calligraphy; washi chigiri-e.  Everyone always anticipated the arrival of one of these beautiful handmade cards on all occasions.
Mom loved to laugh & she thoroughly enjoyed being teased by many family members & friends.  On many occasions the results would be a good belly laugh.
WE THANK GOD FOR BLESSING US WITH SUCH A STRONG, CARING, HAPPY, INTELLIGENT & CREATIVE MOM!!!!!
THANK YOU to all the angels at Venta Care Centre.
Cremation has taken place & the Funeral will be held at St. Michael & All Angels Angilcan Church, 5003 -146 Ave., Edmonton on Friday, August 9th at 1:00p.m.
Donations to St. Michael & All Angles Anglican Church.
"THANK YOU MOM FOR THE GREAT MEMORIES"