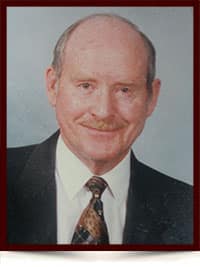 Edward Bennie Link
With deep sorrow and much love we mourn the passing of Edward Bennie Link of Edmonton, Alberta on October 29, 2016. Lovingly remembered by his wife of 67 years, Violet; daughter Cheryl (Dick); sons Danny (Allyson), and Alan (Corinne); 9 Grandchildren and 9 Great Grandchildren.
Edward was born on November 21, 1925 in Camrose, Alberta, and from an early age was blessed with an aptitude and passion for singing. Between the ages of 3 and 7, family pastor Dr. E.P. Wahl at Olds Baptist Church introduced him as a boy soprano and further predicted that one day he would lead the church choir. As a teenager Edward did just that.  This passion for singing led to studies at the Eastman School of Music, and Roberts Weslyn College in North Dakota, and in New York at the University of Rochester, regarded as one of the finest music schools in the world, where he earned Bachelor of Arts and Bachelor of Divinity degrees.  Edward was a soloist, music director, radio broadcast musician and choral conductor, and enjoyed singing in an a capella male quartet. He was involved with over 100 concerts in Canada and the USA.
Upon graduation, Edward became a Pastor at Victoria Avenue Baptist Church in Regina Saskatchewan, and then at age 27 was called to be Professor of Music at the Christian Training Institute, which was started with the determination and providential guidance of Dr. E. P. Wahl.  The Christian Training Institute was eventually renamed NABC - North American Baptist College, where Professor Link played an instrumental role in its success for 28 years through his outstanding musical direction and teaching of church history, missions, and High School studies. He also occasionally taught courses at the University of Alberta.  Edward also enjoyed a sabbatical in Victoria B.C. where he further earned a Masters Degree.  During these many years Edward wrote and directed music-dramas and led the touring Choristers across North America for many concerts, including filled to capacity performances locally at both the Northern and Southern Alberta Jubilee Auditoriums. He also conducted hundreds of weddings and funerals over the years, including officiating at his children's weddings and numerous grandchildren's, nieces' and nephews' weddings.
After retiring from NABC Edward served for another 12 years in Interim Ministry at 9 different churches throughout the Edmonton area. Following this, and not quite ready for retirement, Edward joined the Salem Manor Nursing Home as the "singing Chaplain", where for the next 20 years he cared deeply for each resident.
At the age of 87 Edward decided to fully retire and continued to enjoy the peace and serenity of their forested backyard, with the joy of many family functions and holiday celebrations.
Edward's legacy includes touching the lives of many across the world, living out the words of Hans Christian Anderson, "Where words fail, music speaks". He produced numerous musical recordings and wrote the book "You Who Have Dreams" which honoured his mentor, Dr. E. P. Wahl, who incidentally was responsible for the creation of Salem Manor.
Opa, as most of us called him, loved his wife, his life, and his family. Throughout his life, he maintained a sense of humility and love for the Lord that has stood steadfast.