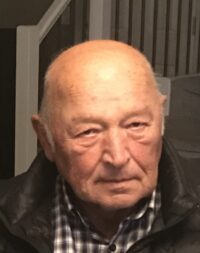 Edwin Hugh Jeschke
October 28, 1943
-
February 2, 2022
Edwin Jeschke was born on October 28, 1943 to Alfred and Wanda in Strasburg, Poland (Germany).
They came to Canada when he was 6 years old and settled in Barrhead, Alberta. After growing up in Barrhead the family decided to move to Edmonton when he was 18 years old, in hopes of finding better job opportunities. Ed eventually found employment as a meat cutter at Canada Packers. He developed a love and passion of meats and during his life at various meat packing plants worked his way up to foreman.
During this time, he met and married his wife of 57 1/2 years,  Sylvia.   This union, saw the birth of two daughters; Sharron (Robb) Kipling and Shauna Wobben (Bobby Karpa) and eventually 6 grandchildren; Brendan and Nathen Kipling, Justin and Zachary Wobben, and Amber and Rachael Karpa of whom he loved and cherished.
He also leaves behind his younger brother, Manfred (Dorothy) Jeschke, his nephew, Scott, and other close family and friends. He will sadly be missed by all.
A private service will be held by invitation only from the family.