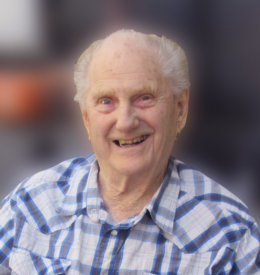 Eiler Trygve Torstensen
October 2, 1932
-
October 28, 2022
It is with great sadness that the family of Eiler Trygve Torstensen announce his passing on October 28, 2022, at the age of 90, following a brief battle with cancer/kidney failure. Eiler passed away peacefully at home, with his loving wife of 58 years, Rubina Emmalene (nee Benke), by his side.
Eiler will be fondly remembered for his strength of character, sharp intellect, and love for his family. Through hard work, resilience and a commitment to excellence, Eiler was able to thrive at boat-building with his father Trygve, homesteading near Fox Creek, and many years of finishing carpentry in Edmonton. He developed a reputation as an extraordinary craftsman with unwavering integrity that allowed him to succeed even in difficult times. In his 70s, Eiler's ingenuity and drive culminated in his inventing, developing and manufacturing a carpentry jig called the Jambmaster® which he continued to build full-time until just a month before his 90th birthday.
Eiler leaves a legacy around the world with Jambmasters as far away as Australia, Ireland and Nigeria. His greatest satisfaction though, came from the love he shared with Ruby and their family. Many times at recent family gatherings he would reflect on how he was "happy to see my kids doing well" and "the grandkids off to a good start".
Eiler will be deeply missed by his wife Ruby, his children Mark(Rachel), Paul(Korina), Leanne(Philip) and Dale(Karyn), his grandchildren Candis(Tyler), Ashley(Josh), Jessica(Cole), Trennon, Sarah, Kayla, Michelle, Eiler John, Caitlin, Benjamin, Bethany and Joseph, his great grandchildren Isaac and Eden, his brothers Conrad(Judy) and Vernon(Natalie), sister-in-law Elvi Torstensen, his brother-in-law Paul(Marlee), as well as many extended family and friends.
Eiler was predeceased by his parents Kristian Trygve Torstensen and Florence Emily Torstensen (nee Brandt), his sister Virginia (Peter) Kelly, and his brother Donald Torstensen.
A Celebration of Life Service will be held at 2:00pm on Thursday, November 10, 2022 at Beulah Alliance Church chapel, 17504 98A Avenue NW, Edmonton. (NB: the closest entrance to the chapel is the middle entrance on the East side of the church).
Interment will take place before the service, at 11:00am on November 10, 2022 at Crooked Lake Cemetery, located 6km north of Gwynn on Hwy 822.
Viewing will take place between 6:00 and 8:00pm on November 9, at Trinity Funeral Home, 10530-116 Street, Edmonton.
Memorial Donations may be made to Samaritan's Purse or Village Missions.