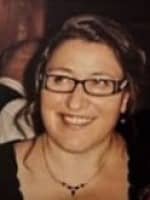 Elaine Louise Boser
Elaine has come out of retirement for the opportunity of a lifetime. She received a call she could not refuse with a huge signing bonus; a reunion with friends and family she hasn't seen in years.
There is 100% job security, and her new mission is in a beautiful, on-site location. Job responsibilities include dancing, socializing, shopping, and reading to her heart's content. Food is delicious, and she'll never gain weight.
She has left strict instructions for Timothy, Aubrey and Ethan, as well as grandchildren, brothers and sisters-in-law, and all of her extended family and friends, to celebrate her original mission, which has now been completed. Low adherence to this instruction will not be tolerated, and she has assured us, she will be watching.
Elaine Louise Boser
October 4, 1958-January 19, 2021
After restrictions have lifted, we will have the kind of party Elaine wanted to have, with Sinatra and PInk and Buble playing, and laughter rather than tears. Stay tuned for further instructions.