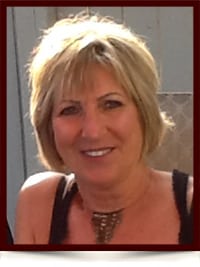 Elaine Mae Zutz-Christensen
 Jan 9, 1948-Nov 10, 2016.
It is with a heavy heart we say good bye to a woman who loved many, and was adored by all. Elaine was a Tomahawk girl with big city sparkle. She loved to compete, play hard, pray harder, dance, sing out of tune and most of all shine! Her ready smile and full hugs were legendary.
She leaves to mourn her soul mate, best friend and husband, Howard Christensen. Her children Crista and Cory Christensen, her grandchildren Casandra Gartner-Christensen Alexandria Dorner, Sarah & Katie Johnson, Justin Johnson, Serenity Christensen; brother Ron (Susan) Zutz; as well as numerous nieces, nephews and friends.
Elaine was predeceased by her parents: Kate and Rinhart Zutz; sister Esther Syroid and brother Edwin Zutz; grandson Nathan Dziwenka-Christensen.
Memorial Service
Wednesday, November 16, 2016 at 2:00 p.m.
Our Savior Lutheran Church
18345 62B Ave, Edmonton (Corner of Callingwood Road and 184 Street).
In lieu of flowers, if you wish, the family asks you donate to the Cross Cancer Institute in Edmonton or a organization of your choice, in memory of Elaine.