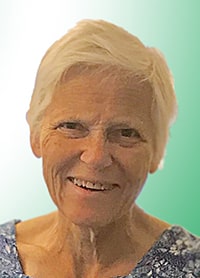 Elaine Margaret Ferguson
It is with great sadness and much love that we say goodbye to our beloved wife, mother and grandmother. On September 8, 2019 Elaine Margaret Ferguson passed away in Edmonton, Alberta at the age of 71.
She is survived by her loving husband Grant, children, daughters Kimberly, Geraldine Stang, (Trevor)and Heather Humeniuk (Daniel). grandchildren, Mackenzie Stang, Ashlyn Stang, Alice Humeniuk, Calvin Humeniuk  and Astrid Humeniuk. Siblings Anne (Albert Aime) , Mary Tomlinson, Irene, (Richard Spradbrow) Albert Overwater (Rose), Geraldine Overwater, (Stan Mehler) Tom Overwater (Jadwiga), Michael Overwater and Margaret (Rene Ouellette). She was predeceased by daughter Andrea, her parents Jake and Florence Overwater and siblings Ernie and Christine.
Elaine was a loving and devoted mother and grandmother first and foremost.  She lived to nourish her Grand Children and was a positive influence on both family and many others as she passed through her life. We would like to thank the team at the General Hospice for the compassionate care they provided.
In lieu of flowers donations to The Alberta Cancer Society would be appreciated.
Memorial Mass
10:45AM Friday, September 13, 2019
St. Dominic Savio Catholic Church
14406 62 St NW, Edmonton, AB
Memorial Mass
11:00AM Friday, September 20, 2019
Our Lady of Perpetual Help Church
4588 Roblin Blvd, Winnipeg, MB