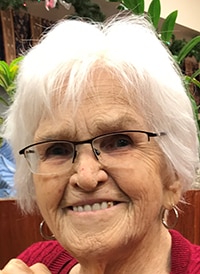 Elfriede Elisabeth Busse (née Werner)
1926 - 2019
Our beautiful Mom, Oma and Gross Oma, Elfriede Elisabeth Busse, born on April 13, 1926 in Altottag, Kreis Ohlau, Niederschlesien Germany (now Poland), passed away peacefully at the Allen Grey Continuing Care Centre in Edmonton on August 11, 2019 after a life fully lived at the age of 93. Friedel is survived by her son Dieter Busse (Jean) and daughter Monica Gobeil  (Vincent). She was pre-deceased by her husband Artur on March 5, 1981. She also leaves to mourn her grandchildren Gregory (Debi), Shannon, Erin, Ryan and Jayde (Korey) and great-grandchildren Melissa (Dave), Kelsey, Ashton, Maggie, Ayden, Isabelle and Cohen.
Elfriede was born at home on April 13, 1926 in a little town called Altottag, near Olau in the Breslau area of Niederschlesien which is now Poland.
Elfriede grew up in the Altottag farming community along with her siblings Paul, Gretel and Fritz. It was Fritz that always gave her a hard time. As the story goes he went to school in the morning and came home in the afternoon to find his place beside his mother's bed that was taken up by new born Elfriede and the sibling rivalry began. They became very close as they grew towards adulthood.
She attended the local school in Altottag. After grade 8 she went to work with one of the farmer's families in the nearby area. This was called "ein plicht Jahr" or a year that you were obligated to work for someone else as determined by the government at the time. After that she found herself a new job working in a light bulb factory where she worked until she had to flee her homeland with her parents on January 20, 1945. The large group of families, walked for months before arriving in a place called Hollfeld, in Bavaria Germany where they were relocated to various towns. Her family was relocated to Welkendorf.
After spending a couple of years in Welkendorf, she found a job in Bayreuth and moved there. That's where she met her future husband Artur. They courted for only six weeks and were married on November 19, 1949.
Artur had always looked for his family, that he had been separated from during the war. He found some family in Edmonton resulting in Art, Elfriede and Dieter emigrating to Canada arriving in Quebec on April 13, 1956, Elfriede's birthday. A long train ride took her to Edmonton, four days later they arrived somewhat overwhelmed.
Her passion for sewing landed her a job at the Great Western Garment company or the GWG factory where she worked for a couple of years and made a lot of new friends and acquaintances. After that she found a new job working in a German delicatessen. She loved the people and being able to serve her customers. The people she met, she kept in contact with over the years. She continued to work in various German delicatessens until she retired in her seventies. She would always work a shift or two after she retired because she loved it so much.
April 18, 1961 was a glorious day for Elfriede because that's when her daughter Monica was born and a "new life" for Elfriede started.
Elfriede loved going back to her beloved Germany, she did so with her husband Artur and her daughter Monica several times over the years to visit relatives and friends. In later years she went with her good friend Wally to visit the place in Poland where she was born and look at the old original houses her family had lived in.
Time went on in Canada and her children grew older with Dieter, her son, and his wife Jean giving her three grandchildren, Gregory, Shannon and Erin that she and Artur loved very much. But it was a sad day March 5, 1981 when she lost her best friend Artur after a courageous battle with lung cancer at the age of 57.
A few years after Artur passed, Monica married Vince and two more grandchildren, Ryan and Jayde arrived. She loved her grandchildren dearly and was very proud of them as they grew into adults.
If you had the chance to taste her cooking, you would agree it was second to none. She made the best rouladen, the most amazing schnitzel and many many more dishes.
Elfriede was a skilled baker and loved Christmas. She made lots and lots of cookies, up to 24 different kinds, which she distributed to family and friends at Christmas. She would decorate her Christmas tree in the middle of November and kept it up well into January just for the joy of the Christmas season.
Elfriede had a distinctive laugh. When she enjoyed herself, she had a robust laugh that would come from her heart and belly.
The funeral service will be held on Thursday August 15, 2019 at 1:00 PM at Trinity Evangelical Lutheran Church located at 10014 - 81 Ave NW, Edmonton
A viewing will be one hour prior to the funeral service at the church.
In lieu of flowers please consider a memorial contribution to Trinity Evangelical Lutheran Church or a charity of your choice in her honour.