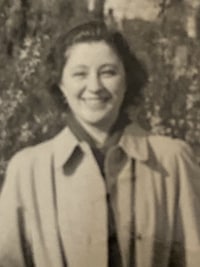 Elfriede Ilse Hoppensack
It is with great sadness that we announce the passing of Elfriede Ilse Hoppensack. She passed away at the Misericordia Hospital the morning of January 17, 2020 at the age of 90.
Elfriede is survived by her daughter Marlis (James), grandchildren Lisa (Ronan) and Haimish (Brandye), great grandchildren Lachlan, Graeme and Regan, brothers Karl (Irma) and Erwin (Herta) and sister Gerda (Herman).
She was predeceased by her husband Kurt.
She will be greatly missed by those who love her.
Memorial Service
2:00pm
Saturday, February 1, 2020
Trinity Funeral Home
10530-116 Street NW
Edmonton AB