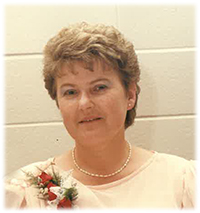 Elizabeth M. Dziwenko
October 18, 1942
-
May 1, 2021
Those we love don't go away
They walk beside us everyday
Unseen, unheard
But always near
Still loved, still missed
And very dear
We are saddened to announce that our mom, Elizabeth Dziwenko passed away peacefully at home on May 1st, 2021 at the age of 78, after a 3-year courageous battle with several declining health issues. We are grateful that her pain and suffering are over and she is now resting peacefully in the arms of the angels.
Elizabeth leaves behind her children, Jacqueline (Darryl), Barry (Roswitha), Dale and Wesley (Darcy); her grandchildren, Allana, Melissa (Sean), Nicolas, Megan (Josh) and Sean; her brother Albert (Shirley) Dorish; sister-in-law Charlotte (William) Shewchuk; her nieces and nephews as well as great and great-great nieces and nephews; and many cousins and friends who will always remember her as a loving, strong, honest, soft-spoken lady who had a multi-faceted personality and a very special faith in God, people and life.
She was predeceased by her husband Richard, her sister Virginia and brother-in-law Bill Tkachuk, as well as her parents Mary and Nick Dorish and mother & father-in-law Mary and Louis Dziwenka.
Due to the pandemic restrictions, services will be held at Trinity Funeral Home on Friday, May 7th, 2021 at 10:00 am with Visitation from 9:00 am - 10:00 am for immediate family only. All who wish to join us in celebrating her life can do so via livestream @ http://talentproductions.ca/elizabethdziwenko/
In lieu of flowers, donations may be made in memory of Elizabeth Dziwenko to the Kidney Foundation of Canada or to Diabetes Canada.