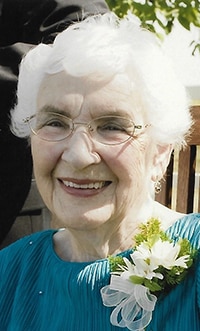 Ella Jean Symington Wilson (née Leslie)
September 8, 1919 - August 21, 2019
On August 21, 2019 Ella Jean Symington Wilson ( née Leslie) passsed away at the age of 99.
Ella is survived by her children Donna (Larry) Solodan, Brenda (Don) Parks, Wayne (Charmaine) Symington, and Cindy (Rick) Neufeld. Her extended family Marjorie (Glen) Staheli, David (Arlene) Wilson, Donald (Betty) Wilson, Sharon (Roy) Schubert, Mark Wilson, sister-in-law Phyllis Hunter, and several Grandchildren, Great-Grandchildren, nieces and nephews. She was predeceased by her husband Jessie Symington and her husband Bruce Wilson. She will be fondly remembered and forever missed.
A Memorial Service to be held Saturday August 31, 2019, at 10:00 a.m. at Trinity Funeral Home, 10530 – 116 Street. Edmonton, Alberta. In lieu of flowers, memorial donations may be made to the Capital Care Foundation designated to Norwood - Palliative Hospice (TLC).