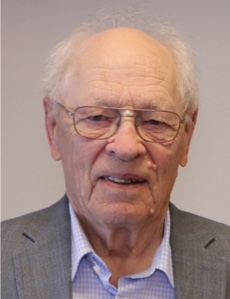 It is with both sorrow and joy that the family of Elmer Buchholtz shares that he left this world for the next in the arms of his precious Saviour Jesus on May 26, 2023 at the age of 93, leaving his suffering and the cares of this world behind him forever.
Elmer is survived by his wife of almost 72 years, Mary; sons Dwayne (Helga) and Darrel (Kristine), and daughter Karen; grandchildren Anita (Andrew), Ivan, Candice (Rich), Eric (Melissa), Dylan (Kaitlyn), Savannah, Kaytlin (Tim), Josh (Madysan), Nathan (Rebecca), Taryn (Paul), and Amanda; and nine great-grandchildren. Elmer was predeceased by his parents, Emil and Lydia, and his brother, Herb.
Elmer was born in 1930 in Bruderheim, Alberta. The family welcomed Herb a few years later, and Elmer was a proud big brother. They grew up on the farm playing, doing chores, and helping wherever needed. In his teen years, the family made a big move to Barrhead where he matured and found the love of his life, Mary. One thing his family always joked about is that Elmer never had a bed of his own as on the day he was married, he went from sharing a bed with his brother to sharing a bed with his wife.
Once married, he and Mary moved to their own farm just outside of Barrhead where they worked hard building a life together. When his parents later moved to Edmonton, Elmer and Mary moved to his parents' farm and added their son, Dwayne, to their family. When there was a loss of livestock, Elmer made the decision to go to Drayton Valley to work the oil patch for the winter to make some money to get back on track. Once there, the decision was made to sell the farm and stay working the oil patch for Mobil Oil Canada, first in Violet Grove and then moving to the town of Drayton Valley. It was while in Drayton Valley that they welcomed Karen into their family. Life was good, and they had many friends from their Barrhead days. A few years later, they were transferred to Whitecourt where they welcomed their third child, a son, Darrel.
They lived in Whitecourt for 25 years where they were very involved in their church and community. The year after his retirement, Elmer and Mary moved to Edmonton where they lived for another 25 years. When the house became too much to take care of and the stairs became too much, they moved to a retirement building that allowed them to be part of another community and make new friends as they daily went for morning coffee as well as other activities.
After retirement in 1988, Elmer and Mary began their annual trek to Arizona which lasted twelve years. In Arizona, they made new friends and also visited with their fellow snowbirds — both relatives and friends — from the Edmonton area. Elmer and Mary's other happy place for 60 years was the camp and cabin at Lake Isle. The camp started in 1960 when they were still living in Drayton Valley, and it was in retirement that they took on the task of building a new cabin, which was Elmer's pride and joy. It was hard for Elmer to give up going to the lake when health challenges and a global pandemic made it increasingly difficult to do so.
Elmer loved to take care of others and to entertain. He loved his family dearly and was very proud of his children, grandchildren, and great-grandchildren ("Everyone's healthy and no one is in jail!" he would often joke). He always worried about them and wanted the best for them. Visiting with family gave him the greatest pleasure during the last years, and you could catch a smile on his face as he watched the kids play and heard the adults share funny stories and memories of days gone by.
The one thing that was the constant in his life, throughout both good times and bad, was his faith in God. It was what gave him purpose even in the latter part of his life when he was frustrated with not being able to do the things he used to.
Thanks to Jesus, Elmer has arrived at his final Home, and we can be assured that he was welcomed with open arms by our Lord and Saviour with the words, "Well done, good and faithful servant."
A celebration of Elmer's life will take place on Friday, June 2, 2023 at Bethel Lutheran Church in Sherwood Park (298 Bethel Drive). The viewing will begin at 10:00 am, with the service starting at 11:00 am followed by a luncheon.
In lieu of flowers, the family would welcome donations to LAMP (Lutheran Association of Missionaries and Pilots), Bethel Lutheran Church in Sherwood Park, or a charity of your choice.