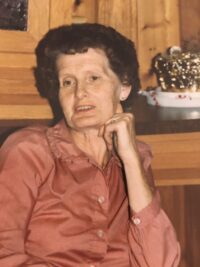 Elsie Irene White
April 21, 1927
-
November 30, 2021
It is with great sadness that the family of Elsie Irene White wishes to let you know that our beloved relative and friend has passed on. Elsie left us on November 30, 2021 at the age of 94.
She is predeceased by her parents, Evelyn and Jim Gueffroy and her husband, Douglas 'Maurice' White, as well as her sons, Douglas White and Bruce White, plus Elsie's brother, Harry Gueffroy.
Elsie leaves behind; her brother Fred, his son Michial and Fred's grandchildren; Christopher and Michial, as well as Elsie's son Bruce's adopted children; Sarah and Frankie and their children. She has also left her niece, Heather Iwanyshyn, daughter of Harry; along with several relatives and close friends.
As a teenager Elsie won the Lieutenant Governor's Award. She then went on to graduate as a Registered Nurse from the Edmonton General Hospital.
Elsie loved reading and going on long walks with her cousin Reta and friends, on the Waskaghan and Kananaskis trails. She also walked many times on one of the several paths in the city of Edmonton. Over the years Elsie, along with her husband Maurice, did Volunteer work for several organizations. Another one of her hobbies was Archeology which she liked so much that she went on a 'DIG' in Egypt.
For the last few years Elsie lived at the Hardisty Care Home in Edmonton, where she received quality Care. We are thankful to the Care home for its kindness and care given.
A small memorial gathering will take place with close family and friends later in the New year.