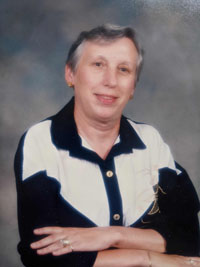 Elsie Katherine Nedbaluk
It is with great sadness that we announce the passing of Elsie Katherine Nedbaluk at the age of 80. She passed peacefully at St. Joseph's Auxiliary Hospital, in Edmonton, on the evening of September 26, 2020. She was born in Tawatinaw, Alberta, on July 12, 1940 to John and Katherine Zalinski. Elsie was predeceased by her parents, and only brother, Henry. Elsie will be dearly missed by those surviving her, including loving husband Edward Nedbaluk, her beloved family from near and far, and many wonderful friends.
In lieu of flowers, those who wish to may donate to the Cross Cancer Institute in Edmonton or a charity of the giver's choice.