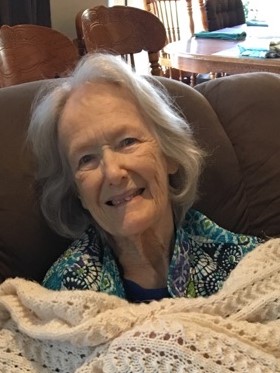 Elsie Margaret Rimmer (nee Tanner)
May 16, 1922 in Stettler, Alberta – October 2, 2018 in Edmonton, Alberta
"Hello everyone. It's a wonderful world." Elsie Rimmer, late September 2018
Our wonderful Mom and Grams has gone. Ellie was strong, wise, loving, grateful, brilliant, beautiful and graceful, hopeful, funny, gracious, generous, courageous, interested and informed, accomplished, able and contributing. Mom cherished the relationships formed through her work and special interests. Important times in Mom's long and active life include:
88th Avenue family home and Garneau School in Edmonton
Four sisters
Buffalo Lake
Music, piano and lessons with Madame
Banff, Alberta in the 1940s
Anatol in university and senior years
University of Alberta (B.Ed., class of '44)
Lafayette, Indiana
Brookside, Delaware
Three babies: Brian, Brenda and Bruce
"the Bob Rimmers"
Polio and complete recovery
University of Delaware (Masters Counseling); child development
7435 119 Street, Edmonton
Almost 30 years with Edmonton Public School Board (schools Bonnie Doon, Oliver, Allendale, Ritchie, Belgravia, Overlanders and Sakaw)
Saturday morning breakfasts with family (Tommy's, Ingers, Friends and Neighbours, Rick and Alice's)
Kids' and grandkids' sports and interests; annual May horseshows at Whitemud Equine Centre
Choirs (Sunshine Singers, Lendrum Mennonite Church Christmas and Spring Choirs, and Lynn Singers)
Belgravia I
Edmonton Oilers
Memorial Day events, University of Alberta
Edmonton's green and gold
Altadena, California and the Sylvia Hotel, Vancouver BC
Elsie is survived and ever loved by daughter Brenda Perry (Doug), son Bruce Rimmer (Theresa), grandchildren Geoff (Claire), Carolyn (Aaron), Tyler (Carla) and Nicholas, great grandchildren Mika, Leo, Lochlan, Maeven and Gwenna Elsie, sisters Kay Tanner Stewart and Shirley Hansen (Gordie), and much loved nieces and nephews. She joins her special people who've gone before, son Brian, sister Doris Pimm, parents Georgie and Harold, and long time love Anatol.