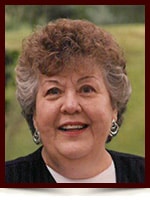 Elsie Pawlovich
June 13, 1934 - May 26, 2015
It is with great sadness we announce the sudden passing of Elsie Pawlovich.  Elsie was born in Vegreville and spent her early childhood years living in the Ross Creek and Lamont communities.  Her family eventually moved to Edmonton and resided in the Riverdale area. Elsie attended Riverdale School with her sister Irene and brother Ed.  As an adult, Elsie moved to NE Edmonton and recently relocated to the Beverly Park Lodge.
After completing her education, Elsie entered the working world starting off working in a restaurant and then worked as a clerk at Walter Woods as well as spending many years with Boychuk Transport and Economy Carriers where she retired in 1999.
Elsie was predeceased by her father George (1952), mother Pearl (1981), step-father Fred Allain (1998), brother-in-law Ted Kozicky (1997) and brother Ed (2013).  She is survived by her sister Irene Kozicky of Calgary and sister-in-law Sharon Martin of Edmonton.
Her family and friends remember her jolly disposition, unique sense of humor, lots of laughter, her capacity for tolerance, her 'no guff" attitude and calling a "spade a spade".  She had good values, was a hard and dedicated worker and was always willing to help. Elsie enjoyed cooking and shared her baking, especially the rum cakes.
She will be missed dearly by all family and friends.  In respect of Elsie's wishes there will be no memorial service.  In lieu of floral tributes, donations may be made to the charity of your choice.
Contact Information:  [wpseo_address oneline="1" show_state="0" show_country="0" show_phone="0" show_phone_2="0" show_fax="0" show_email="0"]