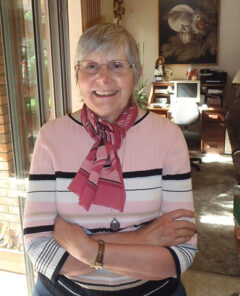 Elsie (Schabert) Schaffrick
March 18, 1944
-
March 22, 2023
Elsie (Schabert) Schaffrick passed away peacefully at home on March 22, 2023 after an illness of a few hours was the final challenge ending many years of congestive heart failure.
Born on March 18, 1944 to Fred & Emma Schabert of rural Westlock, Alberta, Elsie was quickly given much responsibility & authority as the firstborn of 5.  This leadership served her well during a lengthy teaching career.  Covering a variety of grades, she focused on English language arts and also pursued her Master's of Education degree as a mature student.  She enjoyed meeting former star pupils who expressed appreciation for the attention to detail she had facilitated.
Later in life, Elsie discovered the absorbing hobby of quilling, making close friends at the West End Sr's Quirky Quillers.  (Exacting twirls & curlicues of small strips of paper intricately placed to create unique works of art.)  The group also travelled by cruise and to a large conference.  Throughout her life, Elsie was an eager late night reader and an avid gardener, coaxing lush greenery and beautiful flowers to grow both indoors and out.
Elsie accepted Jesus as her Lord very late in life, and appears to have eagerly taken His hand to enter the eternal occasion of another favourite activity: visiting and feasting at family celebrations.
She is lovingly remembered by many, including her husband of 58 years Willbert, children William and Lisa (Brennan), sister-in-law Edith, siblings Hilda (Emil), Alex (Linda), Herb (Heidi), and Linda (Colin).  Ervin, other cousins and numerous nieces, nephews, and their families were also all treasured by Elsie.
Charities suggested for your consideration are the Heart Fund & your local Mental Health Supports.
A service sharing our memories of Elsie will be held Monday, April 3 at 12 noon at Edmonton's Trinity Lutheran Church.  (10014 - 81 Avenue)
We would love to see you in person to clasp your hand or share a hug.
Please give consideration of limited closest onsite parking to those with limited mobility.