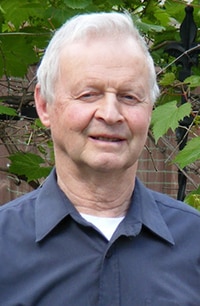 Enos Roydan Stauffer
Enos Roydan Stauffer was born in Ryley, Alberta, August 10, 1928, to JB and Lydia Stauffer.  Enos was the sixth of seven children.  He passed away peacefully, January 12, 2020, at the Tofield Long Term Care Center, at the age of 91 years, after a brief illness.
Enos was predeceased by his wife Lucetta (Jutzi) Stauffer and his parents and five older siblings.  Left to mourn his passing are his children Sandra (Reid) Fisher; Joy (Mark) Hendricks; Randy (Sheila) Stauffer; Jeff (Joanna) Stauffer; his twenty grandchildren and twelve great-grandchildren; and his sister Elsie Boettger as well as many nieces and nephews.
Enos enjoyed working, and his several jobs included farming near Ryley, driving transport truck in Lloydminster, AB, and working at the Bible Book Store, Edmonton.  In 1973, he and his wife Lucetta opened a Christian bookstore in Lloydminster. After retirement Enos decided that rest and relaxation were not for him and he went back to work as a janitor for an Edmonton office building until he was 85.  He was always eager to contribute and help others and he shovelled snow for neighbors until the age 88,
Enos will be remembered for his tall tales, his easy going disposition and his willingness to help others.
Memorial Service
Friday January 24, 2020 1:00PM
Salem Mennonite Church
49232 Range Road 184 (South East of Tofield Alberta)