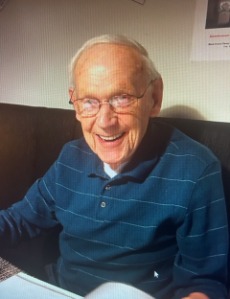 Erich Peter Paul Offers
May 6, 1925
-
January 26, 2023
Erich "Papa" Offers passed away peacefully on January 26, 2023, at the age of 97 surrounded by his family.
Klara, the love of his life, and wife of 59 years, pre-deceased Erich in 2009. He is survived by his three sons Manfred (Carol) Ronald (Christiane) and Albert, as well as 7 grandchildren and 7 great grandchildren.
Erich was born in Altenberge, Germany and spent his youth playing soccer, and apprenticing in the family business before the war. After serving in the air force, he returned to Altenberge, continuing in the family business of draperies and upholstery. He received his Masters certificate in upholstery in 1948.
In 1956 Erich, Klara and their oldest son emigrated to Canada, stopping briefly in Winnipeg and then on to Edmonton, where they would make their permanent home. They added 2 more sons to the family in 1959. He and a business partner established Reid & Offers Furniture which he operated with much success until he retired in 1987. All his customers knew that if it was built by Erich it was built to last.
While running the business, travelling, and spending time at the lake, Erich always made time for his family and friends, especially on the weekends at Lake Isle, his second home. After he retired Erich and Klara could be found spending the majority of the winter in Hawaii with their friends Dan and May, Barb and Kenny.
They would also travel back to Europe, primarily to Germany and celebrate the Schutzenfest.
in Altenberge. Erich was the crowned the Schutzenkoning in 1949
After Klara passed, Erich renewed his passion for the skies and began sky-diving and continuing on into his 90's. His travelling continued with friends and family going with him to Panama Canal, Germany, and United States where many of his grandchildren and great-grandchildren live. Unfortunately, his hearing diminished significantly during this time but being an optimist, he quickly learned to use his computer to communicate, sending copious emails to family and friends.
Erich continued to live in the townhome he and Klara purchased in their retirement. He kept busy doing minor repairs to the home and looking after the flowers Klara had planted. He was never without a project.
His sound advice, caring, and compassion for family and friends will be truly missed. They just don't make them like Erich anymore.
Erich was cremated shortly after his passing. The family will have a celebration of life in the near spring and scatter his ashes as he requested.
Our deepest thanks to all the staff at the Sturgeon Hospital in St. Albert for their kindness and compassion; they truly are angels.
Any donations on behalf of Erich should be made to the Sturgeon Community Hospital Foundation.