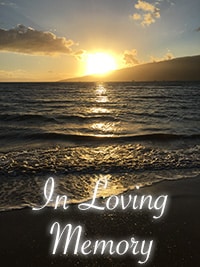 Esther Violet Ainslie
[et_pb_section bb_built="1" admin_label="section"][et_pb_row admin_label="row" background_position="top_left" background_repeat="repeat" background_size="initial"][et_pb_column type="4_4"][et_pb_text background_position="top_left" background_repeat="repeat" background_size="initial" _builder_version="3.0.106" background_layout="light"]
June 28, 1919 – December 24, 2018
It is with sadness and much love that we say goodbye to our beloved Esther Violet Ainslie who passed away at the age of 99 years.
Esther will forever be remembered and missed by son Jim of Edmonton, daughter-in-law Sarah of St. Albert, grandchildren Donna (Keith) of Spruce Grove and Jeff (Jacqueline) of Calgary, great-grandchildren: Gabrielle, Gillian, Savannah and Eric, and great-great-granddaughter Sophia.  Also left to cherish Esther's memory are the extended O'Connor and Ainslie families, her church friends, and several dear friends and neighbours.
Esther was predeceased by husband Andy, son Gordon, sister Alice, brothers Loyd and Edward, and parents, Fanny and Moses.
Esther was born in Bentley, shortly before the family moved to a farm in what is now the Mill Woods area.  After secretarial training, she worked for the Provincial Government.
Esther was a devoted wife, mother, and homemaker who enjoyed church activities, gardening, playing cards, knitting, visiting, and walking.  She and Andy spent yearly winter vacations in Victoria, Hawaii or San Diego.  Cottage weekends at Alberta Beach and later at Pigeon Lake were enjoyed with friends and family.  Esther will be remembered for being a kind, loving and generous soul to all who knew her.  A family service to celebrate her lifer is being planned for the near future.
[/et_pb_text][/et_pb_column][/et_pb_row][/et_pb_section]