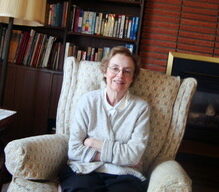 Flora Pavich
January 28, 1937
-
December 10, 2022
On December 10, 2022, Flora Pavich of Edmonton, AB, passed away peacefully after a long battle of Alzheimer's. She was 85 years old.
Flora is survived by her husband Joe, her only son Robert (Immaculate), and only grandchild Samantha. She is also survived by her 3 sisters: Cathy, Johanna, and Sheila (Ivan).
Flora was born in Opal, Alberta to parents Archie & Johanna MacInnes. She moved to Edmonton in 1955. In 1962, she married Joe and had their only child, Rob.
She worked at the UofA English Department and for the Dean of Law for more than 35 years. Gardening and yoga were Flora's favourite pastime. She loved flowers, she enjoyed housekeeping and always had a spotless home. She enjoyed visiting with her siblings, and she enjoyed her nieces and nephews - frequently offering to care for them when they were young to help her siblings out. She loved going to Toronto to spend time with her son, daughter-in-law, and grandchild.
Flora was thoughtful, funny and resilient.  She will be greatly missed.
Many thanks to the staff at Jasper Place Long-Term Care Home for their tireless work over the years.
Cremation has taken place, and a celebration of life has been held.