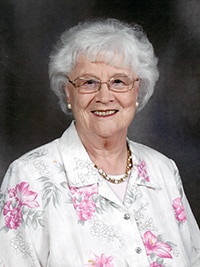 Florence Esther Eifert
Florence Esther Eifert was born on August 8, 1929 to Philip and Molly Kendall on the family farm near Churchbridge Saskatchewan.
She was the second of five children and experienced a childhood common to many rural farm children of that time, doing farm chores and attending the nearby one-room schoolhouse with her siblings and many cousins. In order to complete her high school, Florence moved to the neighboring town of Langenburg where she boarded with a local family.
Following several years at the Normal School in Regina, she took a teaching position in a one-room school north of Grenfell.  Here, she caught the eye of Willard Eifert, a single Lutheran Pastor who was beginning his career in the hamlet of Oakshella.  They were married on August 17, 1954 and were gifted with four children, Ruth (1955), David (1957), Donald (1959) and Kenneth (1961).  During 45 years of marriage, Florence served the dual high calling of stay-at-home mother and pastor's wife as Willard served Lutheran congregations at Oakshella, SK; Fort Saskatchewan, AB; Duncan, BC; Grenfell, SK; Langenburg SK and finally Brightview, AB.  In 1992, Florence and Willard retired to Edmonton where Florence enjoyed her grandchildren, maintained a beautiful garden, and was active in the Bethlehem Lutheran congregation.
As Willard's health declined, she became his caregiver until his death in 1999.  The following years were difficult ones for Florence, especially when her middle son, Donald, suddenly passed away in 2003, but she found comfort in her fellow parishioners, the company of her children, especially Ruth, and her two cats.
Florence remained in her home until 2015 when she moved to an independent living apartment in Porta Place.
Following several falls and a lengthy hospitalization, she relocated to Venta Care Centre where she lived her final 18 months.
Florence was a deeply spiritual woman who found her strength in the promises of Scripture and in prayer.  Even in those final years when her rational powers diminished, she eagerly awaited the day when she would meet her Saviour and that day arrived on June 24, 2019 as she quietly left this life to join her dear Jesus and be once again united with those who had predeceased her.
Funeral Service
Tuesday July 2, 2019 11:00AM
Bethlehem Lutheran Church
4638 117 Ave NW, Edmonton, AB