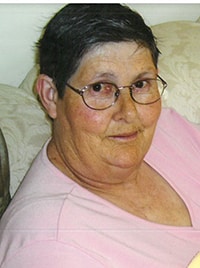 Frances Elizabeth Manaj
1945 - 2019
Frances Elizabeth (Fran) Manaj, nee Peters passed away in her sleep on July 10, 2019. She and her husband, Frank Manaj have been long term residents of Alberta Beach, Alberta.
Fran was born in Saskatoon, SK, daughter of Edward and Betty Peters (nee Green). She grew up in Mayerthorpe, AB and married Frank Manaj of Campsie, Alberta.
She is survived by husband, Frank Manaj, daughter Dawn Manaj, grandson Brayden Critchley, son Dale Manaj, sister Pat
Corbett, nephews Adam and Nathan Corbett, nephews Philip, Kevin, Richard, and Steven Ashton, niece Annette Florence (Alan), great niece Nala Florence, great nephew Lucius Florence and niece Vicky Ashton; great nieces Tetras and Serena and great nephew Dominic.
She is predeceased by her mother Betty Peters, father Edward Peters, sister Valerie Ashton and brother-in-law Len Corbett.
Celebration of Life for Frances Manaj will be held on Thursday, July 18, 2019 (2:00 p.m.) at the Trinity Funeral Home 10530-116 St. N.W. Edmonton.