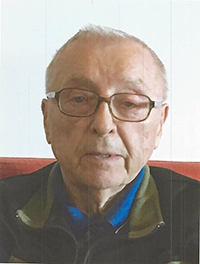 Frank Rogocki
September 9, 1928
-
March 7, 2021
Frank Rogocki passed away March 7, 2021 at the age of 92 1/2, he was proud of the fact that he lived that long - and told everyone. He is very loved by his daughters Sharon Swyrd, Lori Spurway and by his son Terry (Geoff Reiher). He was a loving grandfather to Mindy (Ryan Skoreyko), Carly (Max Legault), Chris (Suzie Swyrd) and Ethan Spurway; and great grand-father to Carter and Claira Swyrd and Sienna and Tucker Legault. He was predeceased by his wife of 62 years, Anne and by his daughter Carol (Jim Breen)
Frank is survived by his younger sister, Helen Saluk, who is the last of 11 children. He is predeceased by his parents Michael and Mary Rogocki, 5 sisters and 4 brothers.
He is also remembered by many friends and extended family.
Frank was born in Lowland Manitoba on September 9, 1928. He grew up on a farm in Beausejour Manitoba. A visit to his sister Helen in Winnipeg was where he met her roommate, Anne, his future wife. Anne and Frank were married on September 25, 1954. They went to Edmonton on a holiday shortly after and never left.
Frank loved the outdoors, his yard was meticulously groomed. He loved going to their acreage by Ma-Me-0 beach in the summers, ice fishing in the winter. He enjoyed watching wrestling on TV and going to the casino with Anne.
Frank will be remembered for his silly, made up songs, his generosity, gentleness and devotion to family.
Frank's family would like to extend a thank-you to the home care workers at The Manor at Millwoods Shepherds Care Centre and a very special thank-you to two very wonderful friends, Janie Lesko and Tracy Kiefuik.
An invitation only Celebration of Life will be held Tuesday, March 23 at 2:00 p.m. at Trinity Funeral Home 10530-116 St In lieu of flowers please make a donation to the Alberta Heart and Stroke Foundation
A link to the funeral video is available here: Live Stream Service for Frank Rogocki