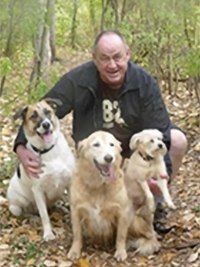 Fred Gunther Wischlinski
Passed Away
September 27, 2021
On September 27, 2021, Fred Wischlinski passed away peacefully at the Edmonton Grey Nuns Community Hospital, Tertiary Palliative Unit, at the age of 68, after a courageous battle with bone cancer.
Fred is lovingly remembered by Susan, his wife of 45 years; his daughters: Deana (Loren) and Erin; grandchildren: Cohen and Dane; his brother Wolfgang (Sandy), nephew Darren and niece Nicole; as well as numerous friends and relations.
Fred is predeceased by his parents (Willi and Elisabeth), many aunts and uncles, and his four dogs: Maddy, Dee, Kaiser and Butch.
Originally from Germany, Fred's parents immigrated to Canada when he was four years old, first living in Edmonton (Beverly) and eventually settling in Sherwood Park. Fred and Susan met in 1969, married in 1976 and have been blessed with sharing the lives of their two wonderful, beautiful daughters (and spouse) and two grandsons.
Fred graduated from Victoria Composite High School in 1971 and furthered his education at NAIT, receiving his Red Seal Steamfitter/Gasfitter Ticket. He has been a member of the Local Union 488 for 48 years. He returned to NAIT in 1993 to earn his Journeyman Ticket as a Machinist, and worked in a machine shop for 13 years, and then returned to steam/gas fitting. His careers, along with his magnetic personality and his unique humour, made it easy for him to develop lasting friendships.
His love of sports was insatiable, which made him a good choice to coach his daughters' softball teams. He was an avid fan of the Oilers, Edmonton Eskimos and whatever other sports caught his attention. Fred was a very kind and generous man, who lived to make people laugh; loved his family, friends and was obsessed with his dogs, as well as every other dog he met. We will all miss him tremendously.
As per Fred's wishes, he will be cremated and no services will be held. In memory and celebration of Fred's life, donations may be made to any local animal rescue agency of your choosing, including The Edmonton Humane Society.
The family wishes to thank everyone who has supported Fred and the family through his challenging and difficult journey. Particularly gratitude is expressed to the incredible medical teams that poured their hearts and souls into Fred's care, specifically those at the Grey Nuns Tertiary Palliative Unit 43. We are forever grateful to all of you.