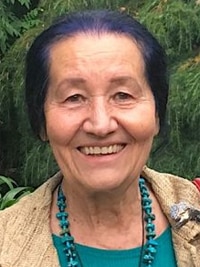 Gabriella Hajdu
Gabriella Hajdu was born on November 14, 1940 in Csantaver, Hungary. She passed away peacefully in her sleep on May 7, 2020 after a courageous battle with leukemia.
She leaves behind her husband, Lajos; two sons, Gabor (Michelle) and Zsombor (Kristina), grandchildren Ilona, Kassaundra and Tyler, 2 sisters, Izabella and Angyal and 1 brother, Laszlo, and numerous friends and extended family.
Cremation has taken place and a Celebration of Life will be held at a later date.
Thank you to the wonderful staff at Tofield Health Centre for all of your compassion and care.
In lieu of flowers, any donations may be sent to Calvin Hungarian Presbyterian Church, 11707 – 86 Street, Edmonton, Alberta T5B 3J7.