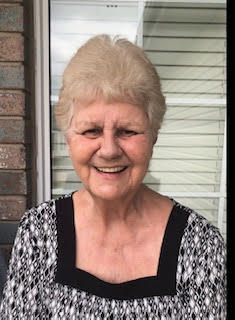 Gail Barbara Jane Johnson (Carter)
May 25, 1939
-
June 22, 2022
Gail was born in Grosse Isle, Manitoba on May 25, 1939 to Charles and Barbara Carter.  She was the third born (2nd daughter) of a family of 6 children.
Mom grew up on a dairy farm.  All the children worked the family business and were active in 4H, the church, and various community organizations.  Mom talks fondly of how hard working and respected her parents were in the community.  She gained her work ethic, integrity and pride in a job well done from the lessons taught with love from her cherished parents.
Mom completed her education and went on to teach at Radway, Manitoba at the age of 17 after taking the Normal School short course. Mom was the teacher, principal & custodian for the one room school house & spoke of starting the oil furnace in the winter & making cocoa for the children who struggled through the snow and cold to attend.
Mom met her husband Ron Johnson at a wedding in the hall at Oak Point, Manitoba and having found "the one", they married a short time later.  Two people that were made for each other and showed us "forever" love is possible because of the lasting love they shared. Three children followed; their son Gary and daughter Ronda Lee early in the marriage, followed by their daughter Melanie 8 years later.
Ron and Gail made a number of moves throughout their marriage from Manitoba to BC, back to Manitoba, then to Ontario and finally to Alberta.  As it is for most families, life had its challenges. Mom worked alongside Dad holding various jobs from secretary at Blondes Furniture, customer complaints correspondent for Eaton's, and cooking and cleaning for another family prior to going to work as a Clerk at Land Titles, and then a Supervisor in the Property Taxation department for AB Municipal Affairs, a job she held for over 20 years until her retirement in 1993.
After settling in Edmonton Mom & Dad purchased a small bungalow in Crestwood, and quickly became part of the community, coaching baseball, and hockey, and making many close friends.  Family life growing up was warm and nurturing with lots of laughs, card & board games, camping trips and holiday celebrations. Ron and Gail put their children in a multitude of activities from arts to sports which allowed them to grow and find their wings.  A close and loving family grew with the addition of wonderful daughter and son-in laws, grandsons, and the joy of great grandchildren.
Ron and Gail enjoyed many years of camping and fishing with friends and family.  Gail was a kind, loyal and generous friend. She was always there to lend a hand or an ear.  In her final months,  Mom even found one last partner in solidarity with the woman in the other hospital bed in her room.  They became one another's confidant, advocate and friend in such a fleeting moment in time.
After the kids had all moved out Mom and Dad moved to a duplex in St. Albert.  Their early retirement years were filled with Mom taking up cross stitching, and at the age of 55 Mom took up golf which she excelled at.   Mom & Dad volunteered for several years at Meals on Wheels, & Mom rang the bells for the Salvation Army at Christmas.  Mom and Dad loved to travel and visited various destinations with a highlight for Mom being Disney World, and New York City.  They became snowbirds, and travelled to Lake Havasu in Arizona several winters to beat the cold and partake in some gambling, golfing and relaxation in the sun.
Mom had a green thumb and flowers blossomed in her care. Mom journaled every day and had beautiful penmanship. Gail was an excellent cook and her butter tarts and date square were a family and Dad's favorite. Mom's dill and beet pickles were the best and she continued to put up preserves until the last couple of years which meant making over a hundred quarts of pickles to share with family.  She was an avid walker and prided herself in keeping fit and moving.  Despite breast cancer at age 55, and a heart event at age 80, she never let pain and illness slow her down for long.  Mom's Fitbit provided motivation and challenge as she pushed herself to get in the required steps each day or beat the previous days tally.
Mom partnered beautifully with Dad, the love of her life, throughout their years together.  Dad lovingly referred to Mom as "Storm" and they were a team.  Sadly, Mom's breast cancer returned after 25 years, and metastasized to her bones.   Mom lived her marriage vows; in sickness, and in health she lovingly cared for Dad as his memory slowly started to diminish, this despite her own health problems.  Mom fought her cancer bravely, and when it overtook her Mom accepted with grace that her life was ending, and ensured her family knew how proud she was of them all.
We love you Gail, Mom, Grandma, and Great Grandma!
Ron
Gary and Dawn
Ronda and Brad
Melanie and Tobin
Chad, Simar and Rajan
Travis, Kari, Olivia and Evelyn