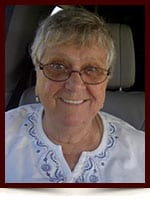 Gail Burley (Lemoine)
Gail Burley (Lemoine), of Edmonton, Alberta passed away peacefully, surrounded by her family on March 10, 2016. She was 75 years old.  Gail is survived by her children ;Judy F. Arnott of Delhi, Ontario, Allan D. Burley of Brockville, Ontario, Katherine G. Burley-Wood of Edmonton, Alberta and Glen J. Burley of St. Albert Alberta; eleven grandchildren; three great-grandchildren, and her brother Butch Lemoine of Keswick, Ontario.
She is preceded in death by her siblings, Shirley, Lois, Roma, Doreen, Joan, Audrey, Barbara, Mel and her granddaughter, Sacha.
Gail requested a Celebration of Life which will occur in July 2016 to honour her.
Memorial donations can be made to either of the following:
Pilgrims Hospice Edmonton, Alberta
9808-148 St. Edmonton, AB T5N-3E8
(780)-413-9801
pilgrimshospice.com
Devon Botanical Gardens, Devon, Alberta
University of Alberta
Devonian Botanic Garden
Edmonton, AB T5G-2E1
(780)-987-3054-2230
devonian.ualberta.ca