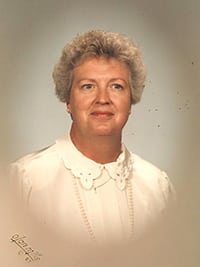 Gail Kathleen Given ( Brick )
Gail Kathleen Brick was born in Peace River, AB in the fall of 1934. One of four children to Allie and Vi Brick, grew up being an avid figure skater, and loved to play the piano with her big sister Hazel. Later working at the local radio station and telephone office, Gail met Ab Given who was working in Grimshaw at the time. They were married in 1956, and welcomed a daughter and son, Lynne and Bob. Gail was a member of the Broadmoor Ladies Golf & Curling Club, and also an early member of the Sherwood Park United Church. Many fond memories were made on Evergreen Street in the old days.
Gail and Ab retired in 1981 in San Diego, and enjoyed living out at San Vicente, welcoming many family and friends from up north, and down south, making even more memories. They returned from California to take full time residency at The Uplands on the south side of the city, which they enjoyed very much.
Gail is survived by her son Bob and daughter-in-law Jeanie of Knoxville, TN and many nieces and nephews in Edmonton and Calgary. The family would also like to recognize Mom's good friend Joann Pelerin, who was always close by. Gail was predeceased in Sept. by her husband of 63 years Ab, daughter Lynne in 2014, her sister Hazel, brothers Allan and Wayne, and her furry loved ones, Kelly, Dickens, and recently Maddie.
Gail will be sorely missed by her family and friends. A donation to The Winnifred Stewart School, in Edmonton, in Lynne's name would be very much appreciated. A Celebration of Life for both Ab and Gail will be scheduled, when the future will allow.