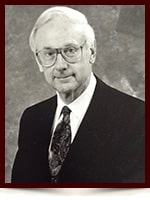 Garth Fryett, LL.B., Q.C.
March 14, 1927 - May 10, 2016
Garth Fryett passed away peacefully at his home in Edmonton Alberta surrounded by members of his loving family on Tuesday May 10, 2016 at the age of 89.
Left to cherish his memory is his loving wife of 62 years Florence, his daughters Maureen, Arlene (husband Dennis Sneider), Sharon (husband Rick Stangeland), and son David (wife Penny Borghesan). He is survived by the grandchildren he adored; Monique (husband Steve Lozeron), Rachelle (husband Bob Willows), Natasha (husband Jason Parlee), Nicholas Sneider, Christine and Carolyn Stangeland, Christopher Fryett-Miller, Melanie and Miles Fryett. In his last years he delighted in the antics of his great grandchildren Asia-Anne Lozeron, Arianna and Riley Parlee.
Garth was predeceased by his parents, RCMP Inspector Edward D. Fryett and Louise Fryett, and younger brother Barrie Fryett.
Garth was born in Shaunavon Saskatchewan and as the son of an RCMP member grew up in various cities and towns throughout Saskatchewan, Alberta and British Columbia. His primary and secondary schooling were in Regina and Lethbridge.
Garth graduated from the University of Alberta with a B.Sc. in 1948 and LL.B. in 1952. He was admitted to the Alberta Bar in June of 1953 after articling with the law firm of Brownlee & Brownlee. He was admitted to partnership July 1, 1956, establishing the law firm of Brownlee, Brownlee & Fryett where he remained in practice for the length of his legal career. In 2013 Garth received the Law Society of Alberta's 60 year Practice Award. He was honoured to have been appointed Queen's Counsel in 1976 and was the recipient of the Edmonton Bar Association Distinguished Service Award in 1996.
Garth believed strongly in giving back to the communities that fostered his career.
Garth served as director of the Legal Archives Society of Alberta from 1996-2011 and was a long time member and Secretary of The Legal Forum. He was a member of the Executive of the Edmonton Bar Association and President in 1969-70.
He served the University of Alberta as a member of the Senate from 1973-1975 and 1991-1994. He also served as a member of the Board of Governors from 1975-1981. He served on the executive and was President of the Alumni Association of the University of Alberta from 1974-1975.
Garth's family and friends will remember a man full of humour, funny stories and laughs around a campfire or dinner table. He was kind, generous and outgoing. Garth never wavered in his love of and support for his family and his very good friends. He especially enjoyed the company of family and good friends while fishing, hiking, golfing and skiing. He faithfully played badminton at the Royal Glenora Club into his early 80's.
He passed away as he had lived, with great dignity and integrity. The family would especially like to thank Vita, Sol and Joanna for their exceptional care and kindness in looking after our Dad in his last two years. Special thanks to Paula Bodnarek NP for her compassionate care in guiding us through his final days.
Cremation has taken place. A celebration of Garth's life will be held on Tuesday May 24 at 3:30 pm at the Royal Glenora Club, 11160 River Valley Rd. N.W. Edmonton.
In lieu of flowers, donations may be made to a charity of your choice.