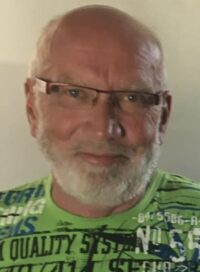 Gary Albert Stephenson Jones
November 14, 1953
-
January 29, 2022
With heavy hearts and far too soon, we announce the passing of Gary Albert Stephenson Jones at the age of 68 years on January 29th, 2022. Gary passed away with his family at his side after watching his favorite hockey team, The Toronto Maple Leafs win.
Gary leaves behind his wife Sue of 39 years, their son Michel (BJ) Heidi, Three grandsons, Ethan, Tristan and Brody all from Edmonton, Ab. He also leaves behind one sister MaryKim (Mike) McCluskey, Brother,Barry (Barb) Jones and brother in law, Nelson Beardsell all from NB. One sister-in-law Kathy Walker(Chris) BC. Gary leaves behind so many close family friends, nieces, nephews and cousins from up north and coast to coast. Gary was predeceased by his Mother Marjorie Stephenson Jones and father Theodore Leonard Jones. Siblings, Carol, Faith, Nick and Jimmy.
Gary was born and raised in Saint John NB until he decided to head out on his own landing him in Alberta where he found work. After a few years, he moved to Yellowknife, NT where he met Sue and married. Gary spent many seasons coaching Softball and volleyball teams followed by his passion of Playing darts. Gary became very good at this sport. Years later, a move was decided and Edmonton now became home base, where he continued to host the many friends and family from BC thru to the Maritimes when they stopped over or would come to visit.
Gary was an accomplished finish carpenter working in the trade and helping others with their projects. There was a time when Gary would fly back and forth into the many northern communities teaching his skills to the local folks. As time went on and wanting to stay closer to home he landed a job with the Edmonton School Board where he stayed until he retired.
Gary certainly had many interests. He liked camping and travelling to visit others when he could. Family was very important. A beer with friends always turned into laughter and one would always walk away with a smile from that chance encounter. He was a kind and gentle soul who would lend a hand to anybody that needed it. We will miss his sense of humour and quick wit. They were hard to match.
A celebration of life will take place in Edmonton, AB once covid restrictions have lifted and at a later date in Saint John, NB. We will announce at that time.