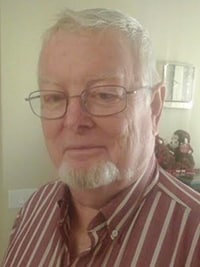 Gary (John) Langford
(John) Gary Joseph Langford passed away on Saturday April 7, 2018 at the Sturgeon Community Hospital in St. Albert, surrounded by his family.
Gary is survived by his wife, Ruth, and their children Cheryl (Vaughn) Atkinson, Margie Langford (Mike Shrimpton), Marilyn (Dave) Shrimpton, Terry Langford (Wendy Crispin), Dave Langford, Pat (Lina) Langford, Monica Langford and Dawn Atkin, twelve grandchildren and four great-grandchildren. He is also survived by his sister Margaret Philip and her family.
Gary was predeceased by his parents Eanos and Iola (O'Reilly), and by brothers-in-law Willard Leskow and Bill Philip.
Born in Edmonton on July 16, 1936, Gary attended St. Joseph High School and the University of Alberta, receiving a Bachelor of Science (Pharmacy) degree in 1964. Gary practised pharmacy in Edmonton, Wabasca and Alberta Beach, retiring at the age of seventy-five.
Gary and Ruth had a home in Westmount for over 40 years, and enjoyed spending time at Alberta Beach. Gary maintained a close group of friends throughout his adult life. In his younger years, Gary was an active sportsman, taking part in fishing, hunting, curling, hockey, baseball and bowling. He was well known for his quirky sense of humour, outrageous hats, and his love of noisy toys. Gary took pride in all the members of his large and growing family.
Gary's family is appreciative of the care and support provided at the Sturgeon and University of Alberta hospitals during the final months of his life.
A Memorial Mass will be celebrated at the Lac Ste Anne Catholic Church on Friday, April 20 at 11:00 AM. A celebration of life will be held on Saturday, April 21 from 1:00 PM to 4:00 PM at Citadel Mews West, 15 Erin Ridge Road, St. Albert.
In lieu of flowers, memorial donations may be directed to support the Sturgeon Hospital Foundation (Medicine Unit) or the University Hospital Foundation (Urology).