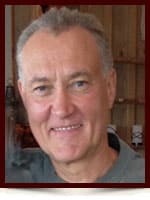 Geerd Grantz
Geerd Grantz (born April 9, 1952) passed away peacefully in the early hours of January 21st, 2016 in the arms of his loving wife, Barbara.
He will be missed and remembered by his wife Barbara, his daughter Rachel, his father Gerd, his brother Ove (and wife Barbara), his two sons Adrian (and wife Susanna) and Mark (and fiancee Jolene), and extended family in Germany, Western Canada, and the US.
Geerd passed away with no regrets and had lived a life that was rich in adventure and love. He pursued his passion for cycling in Europe, America and Canada and did so while influencing and inspiring many people along the way. He was a gifted musician, who continued to share his love of classical music beyond his years in an orchestra.
He will be remembered for his strength of character, honesty and integrity, and his passion for an active and purposeful life.
Cycle Logic bike store (where Geerd dedicated 13 years of service), its cycling club members, friends, and family will be sponsoring and dedicating a park bench in his name that will be placed in Edmonton's North Saskatchewan river valley.