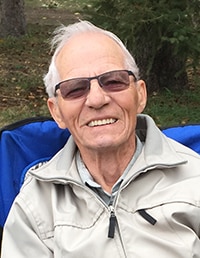 George Duchesne
February 2, 1935 - January 6, 2020
George Edmond Duchesne was born on February 2, 1935 in Tangent, Alberta to Albert & Blanche Duchesne and had 10 siblings – Donald, Lucette, Elaine, Raymond, Collette, Armand, Hector, Danny, Donat & Denise.
Donat & Denise are his only surviving siblings.
As a young man George worked in Camrose where he met and married Vivian Finnestad.  Together they had three children – Ed (Marlene), Elaine, Nicole (Rocky).  He has four amazing grandchildren whom he was very proud of.
He worked from a very young age at a variety of jobs – George is most known for all his years in the radiator repair business.
Fondly known as Papa – his love for gold panning was the top of his list every summer.  He also loved long walks, camping, candy, company & conversations of the past – which included his many bear stories.  He also loved to read, especially stories of the North where he spent a few years in Fort Simpson with his young family.  He also loved the quality time at Buffalo Lake with cherished friends of many years.
George loved watching some TV – The History and National Geographic channels were his favorites along with the show Goldrush – but also loved The Big Bang Theory – but mostly just to watch Penny!
Anyone who knew him well knows he was a man of great integrity – despite his colorful language at times – a true Frenchman at heart!
He leaves a huge hole in our hearts.
A memorial service will be held on Saturday, January 11 at 1:00pm at Grace Christian Fellowship, 10162 – 152 Street, Edmonton.