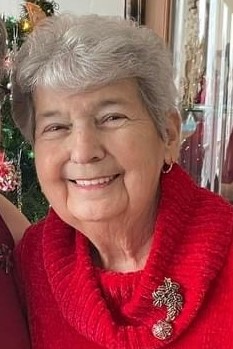 Georgette Ouimet Butz
September 4, 1938
-
January 26, 2022
It is with heavy hearts that our family announces the passing of our beautiful mother, grandmother and great-grandmother.
Mom's passing has been a tremendous loss to our family and her friends. She is survived by her four children: Wilfred (Patsy) Ouimet, Catherine (Doug) Grimstad, Daniel (Rhonda) Ouimet and Louis (Laura) Ouimet. Her eleven grandchildren: Tracy Perry, Christopher (Shannon) Ouimet, Rindi (Jason) Fong, April Ouimet (Kyle Phobeus), Tyra Grimstad, Rudy Ouimet, Aimée (Dan) Murrell, Jason (Alysha) Ouimet, Jonathan (Leah) Ouimet, Briana (Justin) Sherstenko and Scott Ouimet. Her twelve great-grandchildren: Cory, Brock, Avery, Nicole, Emma, Heath, Conrad, Grace, Santana aka Sugar, Lincoln, Marcus and Eric. Step-daughter: Brenda Hall and step-grandson: Daniel Hall. Sisters: Cecile Lirette and Lucy Jones (John Marfel), brothers: Denis (Margaret) Gaucher, Bernie Gaucher, Robert (Francoise) Gaucher, her sisters-in-law: Louisette Gaucher, Pierrette Bragaglia, Suzanne Gingras, France Levasseur-Ouimet, Denise (Wayne) Kowalski, Juliette (Bill) Field and brother-in-law: Joffre (Darlene) Ouimet. Along with her many nieces, nephews and numerous dear friends.
Georgette was predeceased by her parents; Romeo & Yvette Gaucher, father and mother-in-law; Elphége & Florence Ouimet, her first husband; Rodolphe Ouimet and second husband, Erv Butz, her great-grandson; DJ, her brothers; Guy Gaucher, Claude Gaucher, her sister-in-law; Rolande Biollo and her brothers-in-law; Paul Gingras, Giovanni Bragaglia, Dave Biollo, Claude Ouimet, and Marcel Lirette.
Mom will be fondly remembered for her love and kindness towards her family and friends. In turn she was loved back by many people. She certainly touched so many hearts in her lifetime and was always willing to help others. Mom had a zest for life; travelling that took her to many places around the world, her amazing crafts, sewing, knitting, crocheting and yes, we are sure many people have received one of her many crocheted dresses, detailed doll clothes, knitted sweaters, afghans or slippers just to name a few of the many things she made with love for us. Her talent was endless. Mom loved to entertain, as many of you may know she was such an amazing cook, and everyone enjoyed being invited for a delicious dinner or lunch to her home. Mom looked forward to her weekly coffee outings with her friends. She also loved to play cards, and, on many occasions, she would host the bridge group at her home. For those who may not know mom had a sweet tooth and enjoyed the simple pleasures of desserts and making her sour cream fudge for everyone.
Mom took such pride in her family; she loved hearing what everyone was up to, spending time with all her family, her grandchildren and her great-grandchildren that brought her so much joy. A couple of months ago she had her great-grandchildren over to her home for their annual baking cookies day and what fun this was. Everyone absolutely adored her.
She enjoyed spending time out at the land for family gatherings, weddings or just to go out to visit as well as her time at the cabin in the mountains. This brought her much joy, peace and relaxation.
Mom had special and meaningful relationships with everyone who was fortunate to have known this beautiful soul. She will be missed by so many who were lucky enough to have had the chance to know what a thoughtful, wonderful, graceful, human being she was.
Our very special thank you to our extended family and her dear friends who had the chance to visit with her or talk to her on the phone during these last few months. This brought mom so much peace during this difficult time. Your kindness throughout these last few months have been appreciated and for this we are grateful.
Thank you to her amazing doctors and support teams; Dr. Ma, Amber, Pam and her team at the Medicine Shoppe, Dr. Ingrid DeKock, Home Care Team (Pod F), the palliative care EMTs and the nurses at the Grey Nuns Hospital for walking alongside us during this difficult time in our lives.
The family plans to have a Celebration of Mom's Life in June.
In lieu of flowers, please make a charitable donation to a charity of your choice.