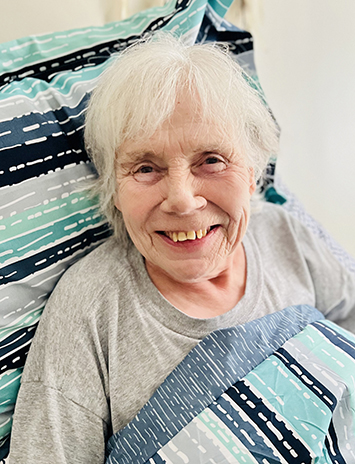 Geraldine Marie George
November 27, 1956
-
March 22, 2023
It is with great sadness that we share that after a short battle with cancer we lost our beautiful light Geraldine George.
Gerry passed away at Norwood hospice In Edmonton on March 22, 2023.
Gerry will be joining many loved ones in heaven including her parents (Marie and Roy).
She will be forever missed by her children Johnny (Bonita) and Corrina (Shaun), her grandchildren Gage, Marie, Ulani, Archer, Aurora, Champ, Conrad and Oakland, her great grandchildren Kota, Everleigh, and Noah, her brothers and sisters Cameron, Brenda (Philip), Tom, Holly (Roy), Donna (Rodney), Daniel (Jane), many nieces and nephews, and so many friends including her life long friend Tommy.
Gerry moved back to Edmonton about 2 years ago to spend time with her daughter and grandchildren, she loved nothing more than watching her grand babies play and run around, it was truly her happy place. Before moving back to Edmonton Gerry lived in Ashmont Alberta for the last 25 years getting to know her sisters again, this is something she held so close to her heart, she loved that she was able build all of these amazing relationships again.
As Gerry always did, she built wonderful friendships everywhere she went with her sweet demeanor and silly personality.
There are so many things that we will miss about our beloved Gerry whether it be her sweet joyful smile or undeniable kind heart or her absolute silly spirt but it is comforting knowing that
we will all be able to look back on a memory with her and smile.
We would like to say thank you to the incredible team at Norwood hospice that took such good care of her in her last few weeks of life, they treated her with such kindness. Thank you!
The celebration of life will take place at a later date details will be posted as they come available