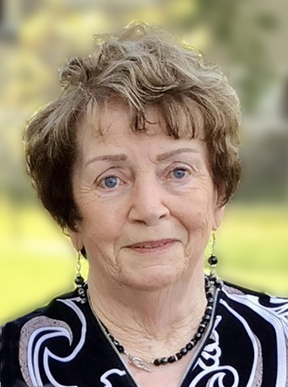 Gertrude "Gertie" Patricia McCartan nee McClorey
July 17, 1945
-
January 5, 2022
 Gertrude "Gertie" Patricia McCartan (McClorey) passed away peacefully at the age of 76 on Wednesday, January 5th, 2022, with her son Sean and daughter Trudy by her side.
Gertie was born on July 17, 1945 to Mark and Gertrude McClorey in Mayobridge, Northern Ireland.  She grew up on the family farm with her siblings, John, Mark, Owen, Mary, Eileen, Stephen, Peggy, Francie, Kevin, Winnie, Liam, Josie and Barbra.
In 1969, Gertie met Patrick (Pat) McCartan while he was on a short trip home from Canada. Soon after that visit he returned to Northern Ireland for her, they were married on January 24th, 1970, later that year Gertie & Pat immigrated to Canada. Gertie and Pat went on to have four children and raise them in Edmonton, Alberta.
Gertie dedicated most of her adult life to raising her own children, along with a few others that were very dear to her. Later on, when the children were mostly grown, she served as a cook at Venta Nursing home...although many who knew her well know that she did much more than cook.
Gertie was the most social person you could ever meet! When she wasn't busy looking after things around the house, she would often be found catching up with friends and family, but especially her best friend of many years Lila Maginn. Later years she took many trips to Northern Ireland to visit friends and family.
She had more than her share of health struggles over the years and most recently with her memory. The last 2 years has been very special to her at the St. Albert Retirement Residence where she made many friends and enjoyed an active life. Gertie's death was preceded by a short illness that resulted in a brief hospitalization.
A private family prayer vigil will be held on Monday Jan. 10, officiated by Father Curtis Berube at Trinity Funeral Home
Opportunity to pay your respects to Gertie will be as follows:
Public viewing will be Tuesday Jan.11th 9:30 a.m - 10:30 a.m, Visitation in private viewing room for anyone in attendance at North Pointe Community Church, please use South Entrance of Church (14025-167 ave, Edmonton)
Memorial Service 10:30 a.m. Tuesday Jan.11th -  at North Pointe Community church officiated by Father Curtis Berube
**note** capacity restrictions may require some in attendance to view on the large screen across the hall from the main auditorium.***
service will be live streamed and can be viewed live, or a later date, on the Facebook page of Gertrude McCartan.
Reception to follow the Memorial service (1pm) will be held at the Irish Sports & Social Society (12546 126 St NW, Edmonton, AB).
***covid exemption program in place at the Irish Club***
The family requests that all flowers and notes be sent to Trinity Funeral home (10530-116st, Edmonton) no later than 3pm On Monday January 10th.