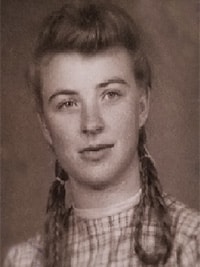 Gertrude Robak (Gerti)
Gertrude Robak, aged 89, died peacefully on September 9, 2018 at the Jasper Place Continuing Care Facility in Edmonton, after a long struggle with dementia and more recently with cancer. Gertrude was born July 25, 1929, in Waidhofen an der Ybbs, Austria the daughter of Josef and Auguste Fleischmann.
Gertrude met Alois, a baker by trade in Graz Austria while they were young teenagers. Alois grew up on a farm in the Fernitz area and together they made plans. Alois came over to Canada in 1952, Gertrude followed in 1953 with their first child (Louis) arriving in Sept 1954. Shirley the second and last child, arriving in 1955.
After many years of learning the ways of Canada, Alois and Gertrude opened a bakery in Jasper Place named Vienna Bakery. They both worked very hard in the bakery and at the same time Gertrude raised Louis and Shirley.
While growing up during World War 2, Gertrude learned to be efficient and frugal with her money, her life and family. The war influences only helped shape Gertrude into a determined and strong woman who learned life may be difficult but, she instilled pride, love and care into her two children Louis and Shirley.
In 1986, Gertrude meet and married Peter Robak in a civil ceremony with her son Louis being one of the witnesses. Peter and Gertrude were married 29 years till her passing and lived together in her home on 149 Street. When the knees and household duties became too much, moved to a plus 55 building where Gertrude purchased a condo with the sale of her house. There they settled down into more of a retirement lifestyle and enjoyed the daily outings for lunch. Unfortunately, dementia surfaced shortly after but, the whole family worked hard to make her comfortable and as happy as possible.
Gertrude is survived by her sister, Waldute, her husband Peter Robak, two children Louis L Mussbacher, Shirley Mussbacher, three grand-children Scott, Ryan, TJ Mussbachers and six great grandchildren; Alexander, Cassandra, Addison, Finn, Ari and Caleb Mussbacher
As per Gertrude wishes, there will not be a funeral or memorial services and any memorial wishes can be made in lieu of flowers, in her name to the Heart & Stroke Foundation – Alberta -