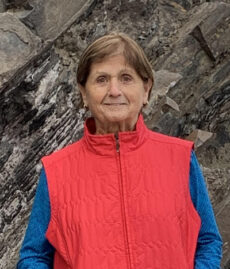 Giuseppina Gulli
March 16, 1948
-
May 17, 2023
And it was in the early spring
When flowers bloom and robins sing
She went away
PINA GULLI
March 16, 1948 – May 17, 2023
Pina Gulli was born in Chiaravalle Centrale, Catanzaro on March 16, 1948, and passed away peacefully in her home comforted by family on May 17, 2023.
Pina will be deeply missed by her loving husband Domenic, her daughter Grace (Jacques Caron), son Joe and granddaughter Jillian (Denise Brodeur), and her many beloved family and friends.
Pina is looked up to by many for exemplifying the values of a great mother. Together she and Domenic reaped the immeasurable rewards of dedicating their love and commitment to family and friends.
Best known for food pushing, her tomato sauce, meatballs, sundried tomatoes pickled wild mushrooms and giving her beloved Domenic the side eye. She loved her home, her garden and having family and friends around her dinner table.
The family wishes to thank the staff at the Mazankowski Heart Institute for their extraordinary compassion and kindness.
A funeral mass will be held on Wednesday, May 24, at 11am at St. Thomas More Catholic Parish at 210 Haddow Close. Words of remembrance, fellowship and lunch to follow in the parish hall.
In lieu of flowers, donations in Pina's memory may be made to the Mazanokowski Heart Institute
PRAYER SERVICE
Tuesday May 23, 2023
7:00 p.m.
Trinity Funeral Home
10530-116 Street Edmonton, AB
FUNERAL MASS
Wednesday May 24, 2023
11:00 a.m.
St. Thomas More
210 Haddow Close. Edmonton, AB